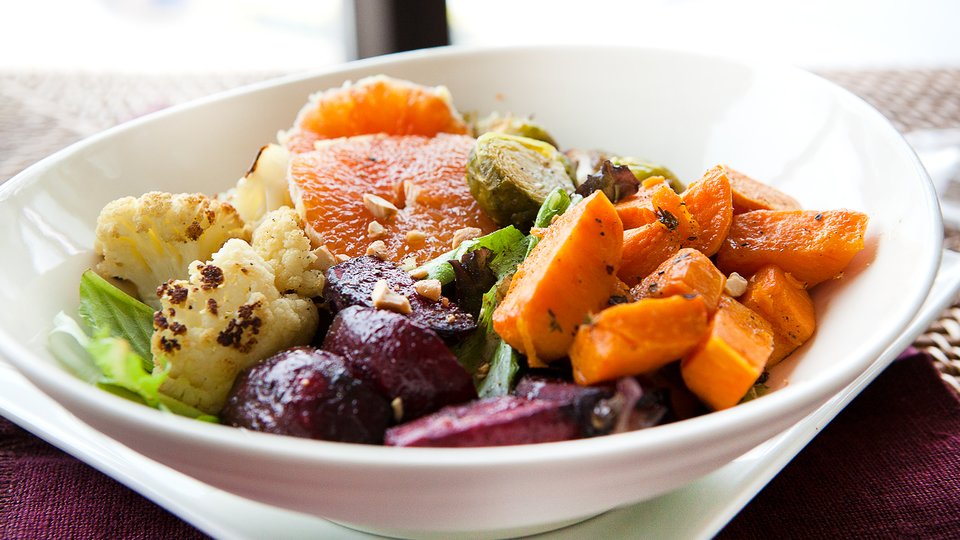 Whether on its own or along with a protein source, this filling, nutrient-packed dish will satisfy your cravings and keep you feeling full!
Ingredients
2 cup sweet potato, cut into cubes
2½ cup head cauliflower, chopped
1½ cup beets, cut into cubes
2 cup Brussels sprouts, halved
4 tbsp coconut oil
2 tsp salt
1 tsp, ground black pepper
1½ tsp rosemary
8 cup salad greens
4 tbsp cashews, chopped
Directions
Prep ingredients ahead of time, if possible.
Preheat oven to 450 degrees F, arranging one rack in the middle and one rack at the bottom.
Grease two 9x13 baking dishes and set aside.
Place sweet potatoes and cauliflower in one baking dish, and Brussels sprouts and beets in the other. Drizzle vegetables with melted coconut oil, and season with sea salt, black pepper, and fresh herbs. Situate baking dishes on different racks (one in the middle and one on the bottom) in oven and bake for 25 minutes. Use a spatula to move veggies around halfway through baking.
While veggies bake, divide salad mix into four salad bowls. Use your hands to gently massage salad mix to ensure vinaigrette coats all leaves evenly. Set aside.
Remove veggies from oven and let cool slightly.
Add roasted sweet potatoes, cauliflower, Brussels sprouts, and beets to each salad bowl, decorate with sliced oranges, and garnish with a sprinkle of chopped cashews. Enjoy!