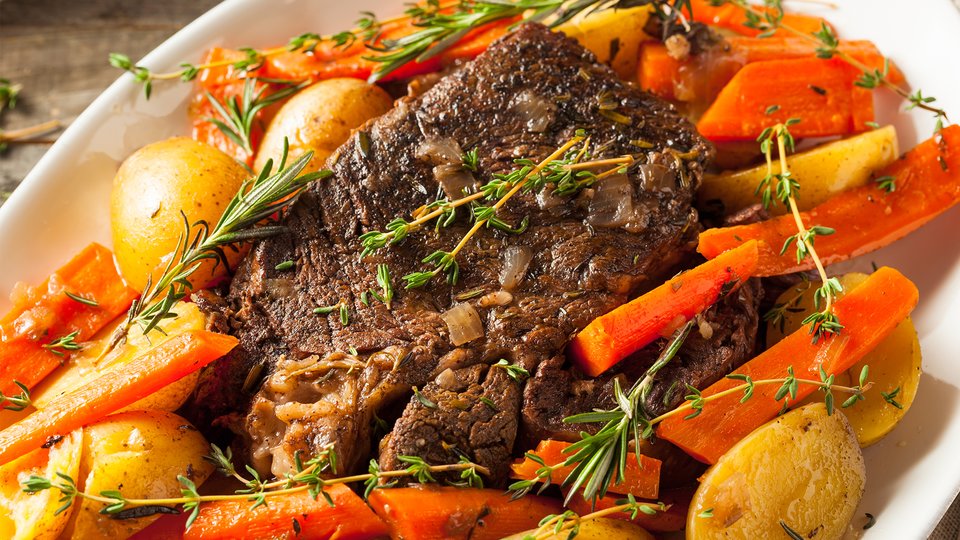 Everyone should be able to make a good roast. It is a great classic that should be familiar to every dinner table.
Ingredients
3 pound lean eye of round roast
1 lb potatoes
1 cup, chopped onions, quartered
3 clove garlic, minced
1 tsp table salt
½ tsp, ground black pepper
2 tbsp vegetable oil
1 can (10.75 oz) low-sodium cream of mushroom soup, condensed
2 tbsp worcestershire sauce
4 cup chopped carrots, chopped
1 tbsp better Than Boullion (Organic Beef Base)
Directions
Chop carrots, onion, and potatoes and put them in the pot.
Mix the garlic, pepper, and salt together into a small bowl. Rub this mixture onto both sides of your roast.
Combine the vegetable oil, cream of mushroom soup, Worcestershire sauce, and beef bouillon into a bowl. Pour this onto your roast, and add water (or low-sodium beef broth) until the roast is covered.
Cook on high for four hours, or roast on low for eight. Either way, it will be delicious.