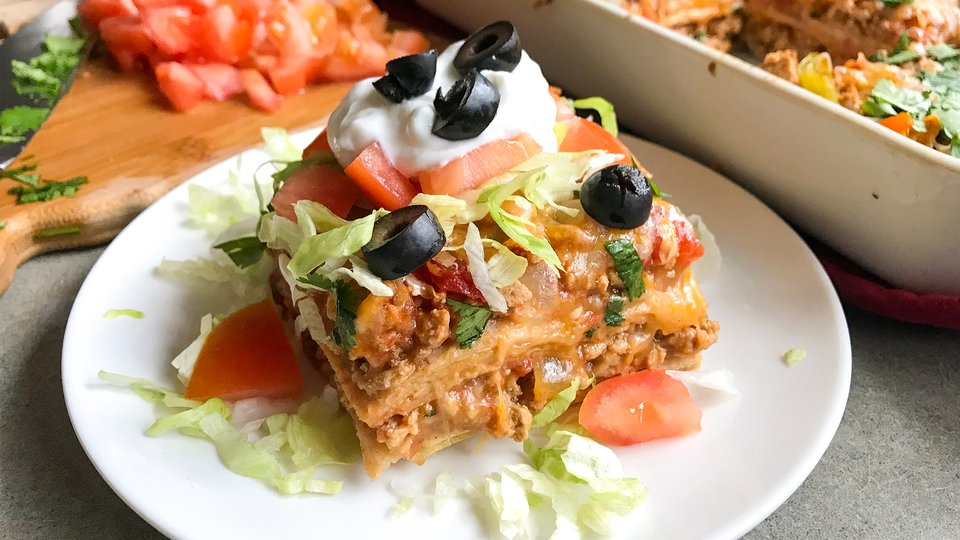 This delicious twist on a classic casserole is layered like lasagna, using gluten-free corn tortillas instead of noodles, and salsa instead of marinara sauce. Enjoy all your favorite south-of-the-border flavors by topping this delicious taco treat with diced tomatoes, shredded lettuce, black olives, and nonfat plain Greek yogurt (It tastes just like sour cream!).
Ingredients
12 whole corn tortilla
15 oz fat-free refried beans
1 lb ground 99% fat-free turkey breast
¼ cup reduced-sodium taco seasoning
½ cup onion, finely chopped
1 cup, chopped red bell pepper
1 cup green pepper, chopped
1 cup salsa
1 oz reduced-fat Mexican cheese
1½ cup shredded iceberg lettuce
1½ cup diced tomatoes
½ cup black olives, sliced
¼ cup cilantro
2 cup nonfat plain Greek yogurt
Directions
Preheat oven to 350 degrees F.
Pan-fry meat over medium-high heat until cooked through.
Add taco seasoning, water, onions, and peppers. Sauté until vegetables are tender.
Lightly coat a 9x13-inch casserole dish with cooking spray and cover bottom with six corn tortillas.
Spread half a can of fat-free refried beans over the tortillas, followed by half of the taco meat, half a cup of salsa, and one cup of cheese.
Arrange six more tortillas over first layer, followed by remaining beans, taco meat, cheese, and another half cup of salsa.
Bake for about 30 minutes, or until heated through and cheese is melted.
Cut into eight equal pieces.
Before serving, top with shredded lettuce, diced fresh tomatoes, sliced black olives, nonfat plain Greek yogurt (omit if vegan), and fresh cilantro.