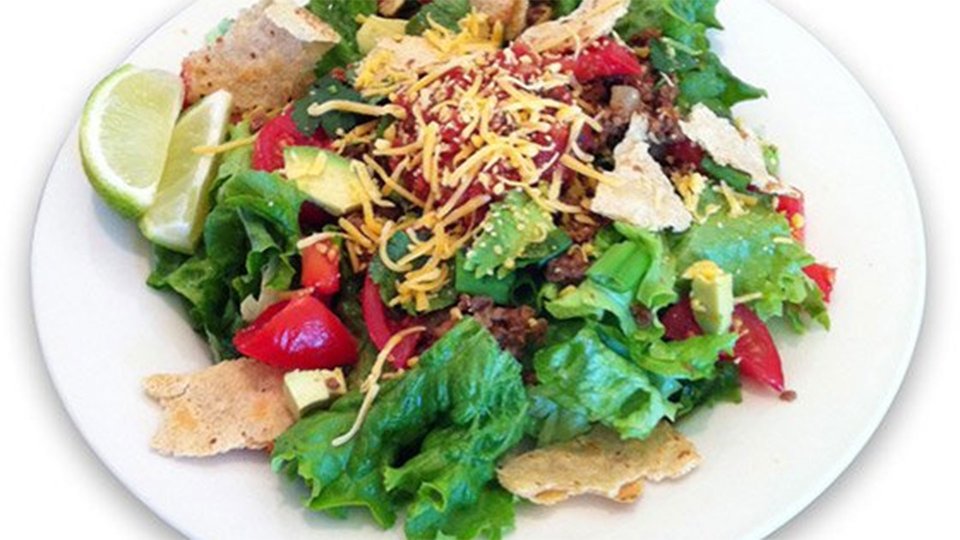 Don't steer clear of big bad ground beef. Choose a lean variety and start experimenting!
Ingredients
1 lb lean ground beef
1 onion, diced
1 cup water
1 head romaine lettuce
2 tomatoes, sliced
1 cup, shredded low-fat cheddar cheese
½ cup nonfat plain Greek yogurt
½ cup salsa
2 whole-wheat tortilla (10-inch)
Directions
Brown the meat and onions in a skillet. Stir in the seasoning mix with water and bring to a boil. Cover and simmer over medium heat for three minutes.
Bake tortillas for 3-5 minutes or until golden brown.
In a large bowl, combine lettuce and tomatoes. Top lettuce with meat, then layer salad with cheese and small pieces of baked tortillas.
Drizzle salad with Catalina dressing and serve with Greek yogurt, (or sour cream or cottage cheese) and salsa.
Serve.
Optional: 1/4 cup Catalina dressing.