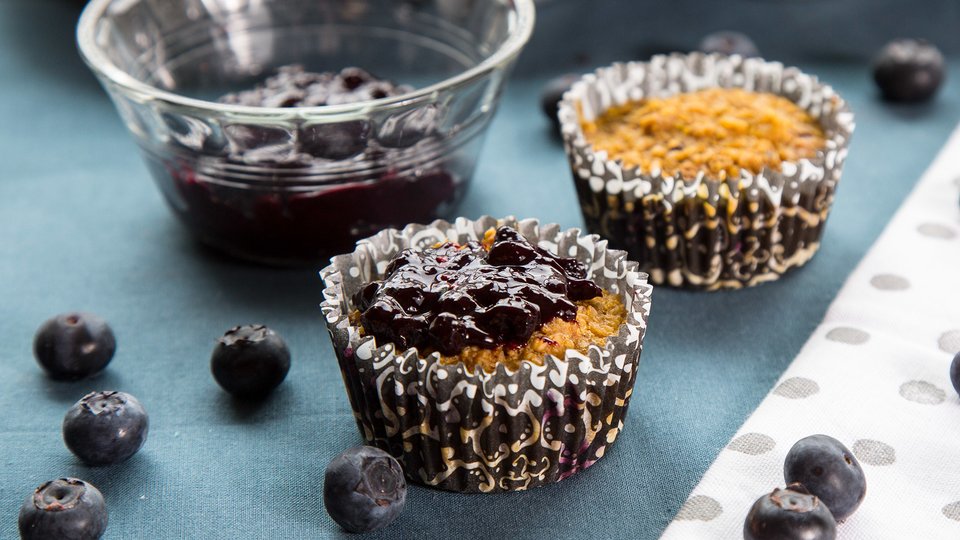 Bake up a batch of these in advance and you'll have a week's worth of a pre-portioned breakfast meals that'll help you bolt out the door in the morning. If you want to use rolled oats, simply delete the step where you soak the steel-cut oats and increase the amount of oats to 1-1/2 cups. You can also replace the sweet potato with canned pumpkin puree.
Ingredients
1 cup steel-cut oats
½ cup oat bran
½ cup walnuts, chopped
1½ tsp cinnamon
¼ tsp table salt
2 egg
1 cup sweet potato puree
¾ cup milk (2% fat)
4 tbsp maple syrup
2 cup blueberries
¼ cup water
1 tsp vanilla extract
1 tsp cornstarch
Directions
In a bowl, cover steel-cut oats with water and soak overnight or for at least 2 hours.
Preheat oven to 350 degrees F. Drain oats and add to a large bowl along with oat bran, walnuts, 1 teaspoon cinnamon, and salt.
In a separate bowl, lightly beat eggs and mix with sweet potato, milk, and 2 tablespoons of maple syrup. Add wet ingredients to dry ingredients and stir to combine.
Divide oat mixture among 12 standard-sized paper-lined or greased muffin cups. Bake for 20 minutes, or until muffins are set. Let cool for a few minutes before unmolding.
To make the blueberry sauce, place blueberries, water, 2 tablespoons maple syrup, 1/2 teaspoon cinnamon, and vanilla in a medium sized saucepan. Bring to a boil, then reduce heat and simmer over medium-low heat, stirring occasionally, for 20 minutes. Dissolve cornstarch in 1 tablespoon water, stir into blueberry mixture and heat 1 minute, or until thickened.
Serve warmed muffins topped with warmed blueberry sauce.