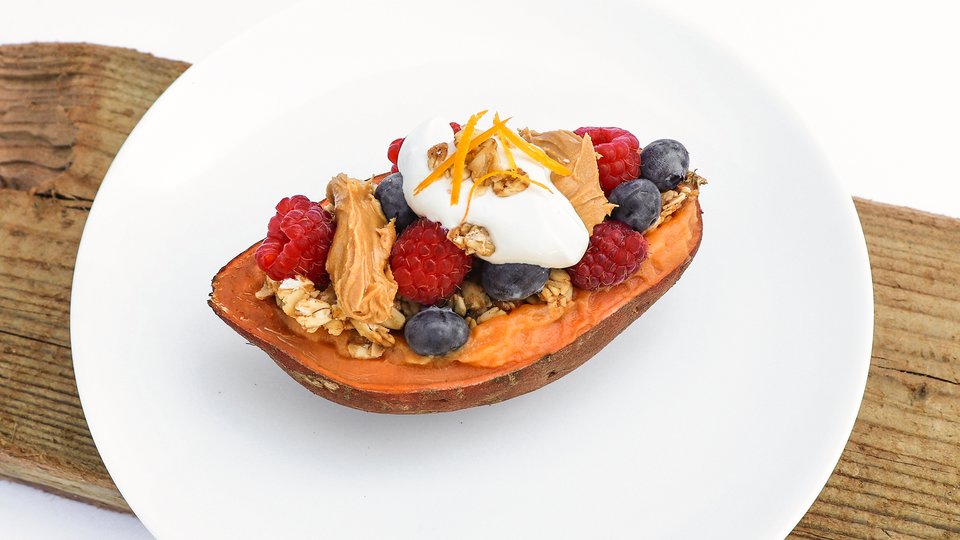 Jonesing for something different for breakfast than that bowl of oatmeal? Adorned with creamy nut butter, sweet-tart berries, thick Greek yogurt, and crunchy granola, this dazzling sweet potato boat hits the taste jackpot. If you really have a sweet tooth, go ahead and finish everything off with a drizzle of maple syrup.
Ingredients
1 whole sweet potato
¼ tsp cinnamon
¼ tsp ginger, powdered
1 tbsp natural almond butter
½ cup blueberries
1 cup nonfat plain Greek yogurt
⅓ cup low-sugar granola
½ tsp orange zest
Directions
Wash your sweet potato under running water, then prick it several times with a fork. Place potato on a microwave-safe plate and heat on high until you can easily pierce it with a knife, usually about 5 minutes. Turn the potato over at the halfway mark. If still too firm after 5 minutes, continue to cook sweet potato in 1-minute increments.
When cool enough to handle, slice potato in half lengthwise and scoop out about three-quarters of the flesh, leaving skin intact. Mash flesh with cinnamon and ginger, then spoon back into the sweet potato halves. Top with nut butter, berries, yogurt, and granola. Sprinkle on orange zest if using.