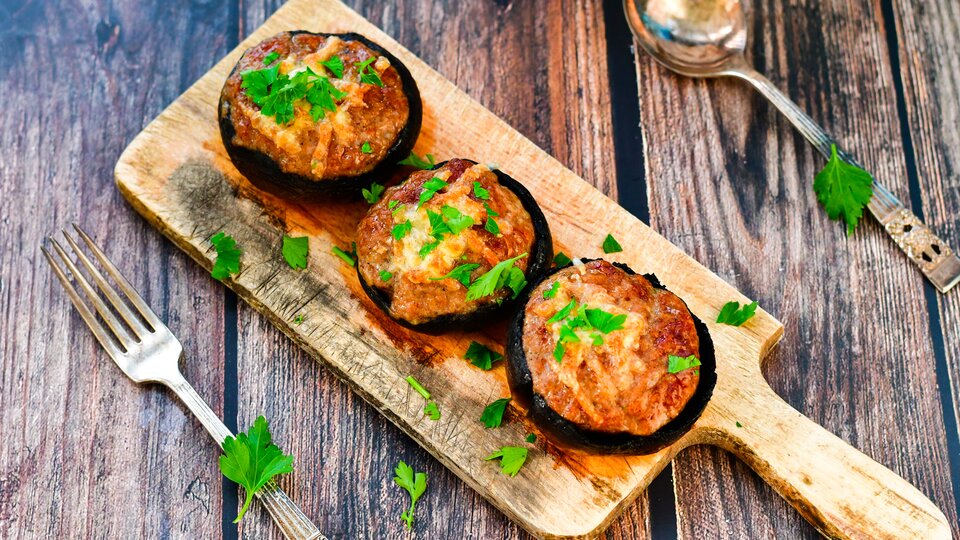 These meaty mushrooms are ideal for vegetarians looking for a delicious burger substitute, but they're also a great low-carb or zero-carb dish alongside your protein or other veggies.
Ingredients
4 portabella mushroom caps
3 whole plum tomato, finely chopped
¼ cup red onion, sliced
1 tsp garlic, minced
2 tsp olive oil
½ tsp, ground oregano
1 tbsp lemon juice
1 tsp light soy sauce
½ cup part-skim mozzarella cheese
Directions
In a medium bowl, combine the tomatoes, red onion, garlic, oregano, and 1 teaspoon of olive oil.
Remove the stems from the portobello mushroom caps using a spoon and set aside.
Mix together the lemon juice, soy sauce, and the other teaspoon of olive oil.
Brush this mixture over both sides of the caps and then place on the grill, stem sides down.
Grill until they are soft to the touch, about 3-5 minutes, then flip over and grill the other side.
Once finished, fill the caps with the tomato mixture and sprinkle with mozzarella cheese.
Place on the grill again for 2-3 minutes until cheese is melted.