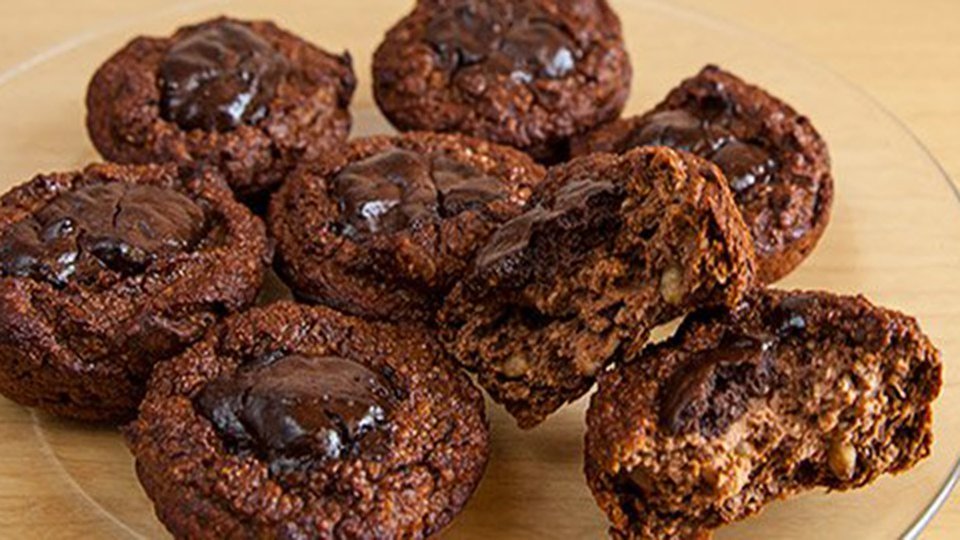 Wave goodbye to your muffin top and say hello to your slender thighs! Enjoy these delicious low-cal treats!
Ingredients
1½ cup oat bran
¼ tsp table salt
¾ tsp baking powder
½ tbsp pumpkin pie spice
1 tbsp cinnamon
1¾ cup powdered Stevia
¼ box sugar-free fat-free chocolate pudding powder
½ cup walnuts, chopped
½ cup nonfat plain Greek yogurt
2 large egg whites
2 scoop(s) chocolate protein powder
filling Ingredients
¼ cup nonfat plain Greek yogurt
¼ cup powdered Stevia
1 large egg yolks
2 tbsp cocoa powder, unsweetened
Directions
Preheat oven to 350 degrees Fahrenheit.
Sift together the oat bran, baking powder, pumpkin spice, cinnamon, walnuts, sweetener, pudding mix, and whey.
In a separate bowl, mix the pumpkin, yogurt, and eggs. Combine wet ingredients with the dry and mix into a batter.
Line 12 muffin tins and carefully fill each cup 3/4 full.
Make the filling: Mix together the yogurt, sweetener, egg yolk, and cocoa powder. Make a well in center of batter for each muffin and spoon in 1/2 tablespoon of filling.
Bake for 20-to-25 minutes or until the filling sets.