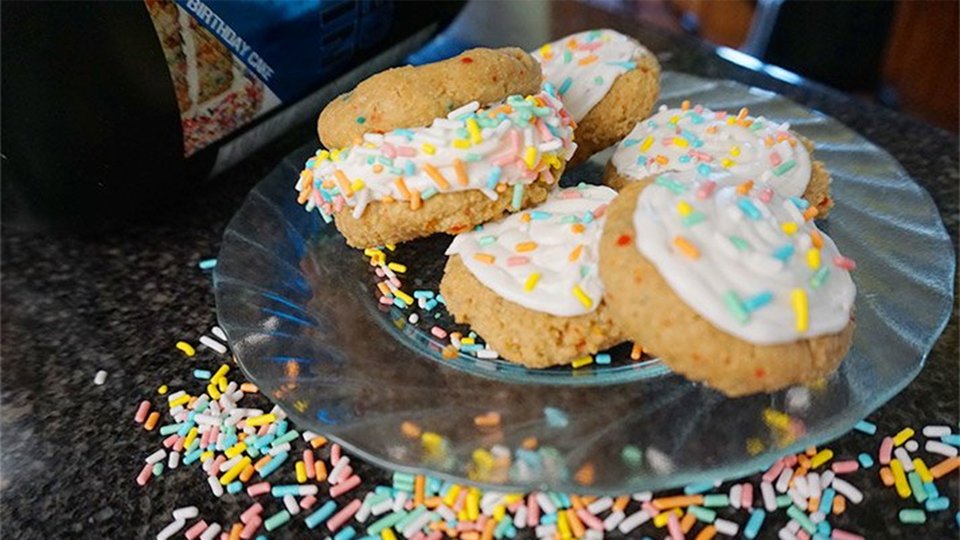 These soft-baked cookies are bursting with birthday cake flavor! Even better, they make a great portable protein snack. Stick a few of them in a Ziploc bag and enjoy them as a post-workout treat. The best part: You can scarf a few down even when it's not your birthday!
Ingredients
2 scoop EVL Stacked Protein, Birthday Cake
6 tbsp coconut flour
4 tbsp cashew butter
2 tbsp sugar-free maple syrup
1 tsp vanilla extract
3 tbsp unsweetened almond milk
1 dash sea salt
1 tsp butter extract
Directions
Preheat oven to 350 degrees F.
Combine the dry ingredients.
In separate bowl, combine the cashew butter and syrup. Microwave until smooth.
Add the vanilla and butter extract.
Add the liquid mixture to the flour mixture and combine it until a crumbly batter forms. Add almond milk and combine.
Hand-roll the batter into six balls, and press them onto a nonstick cookie sheet. Bake for 6-8 minutes.