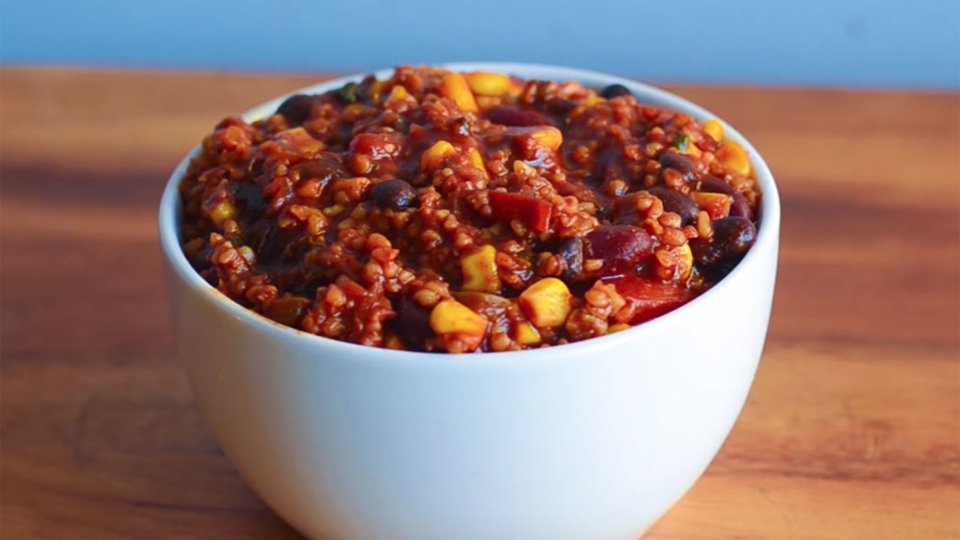 This is one cold-weather dish that proves meatless chili isn't just for vegans. With a hearty dose of protein, this bowl of veggie goodness shows that you can build muscle and lose weight on a vegan diet. It's all about consuming the right portions and macronutrient ratios to support your fitness goals.
Ingredients
2 cup freekeh, cooked
15 oz low-sodium tomato sauce
2 tomatoes
2 cup low-sodium vegetable broth
15 oz dark kidney beans
15 oz low-sodium black beans
1¾ cup kernels corn kernels, frozen
1 cup red onion, diced
2 clove garlic, minced
1 cup cilantro
1 tbsp coconut oil
1 tbsp paprika
1 tsp coriander
1 tsp ground chipotle powder
1 tsp cumin
Directions
Cook freekeh according to the directions, but use half low-sodium vegetable broth (1 cup) and half water (1 cup) to add extra flavor.
Chop up your vegetables (cilantro, red onion, tomatoes, bell pepper, garlic) and set aside.
Set a nonstick skillet on medium-high heat and spray with coconut oil. Toss in red onions and garlic. Sauté until the red onions become brown and translucent.
Add tomato sauce, cooked freekeh, 1 cup vegetable broth, bell pepper, tomatoes, and the seasonings (paprika, coriander, chipotle chili pepper, gumbo file). Stir well with a spatula.
Add beans, corn, cilantro, and 1 cup vegetable broth. Reduce the heat and cook on medium heat for 8-10 minutes.