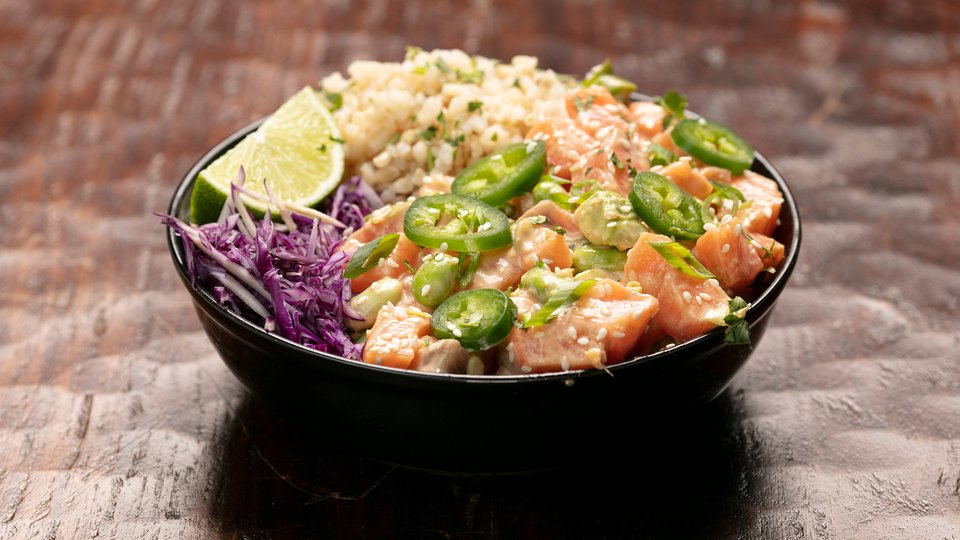 A flavorful alternative to boring old canned tuna, this island-inspired appetizer is the high-protein solution to your sushi cravings to help you chase unbelievable gains!
Poke Ingredients
1 lb sushi-grade salmon, diced into 1/2-inch pieces/cubes
½ cup shelled edamame, thawed
1 avocado
⅓ cup green onion, chopped
2 cup brown rice
Sauce Ingredients
3 tbsp safflower mayonnaise
1½ tbsp liquid aminos
1½ tbsp sriracha
½ tsp ginger, pureed
2 tbsp lime juice
Directions
Cook rice according to the instructions given and set aside.
Carefully slice up the salmon into small, half-inch cubes (use the sharpest knife you have so you don't mash it) and place in a bowl.
Add the thawed edamame, green onions, and avocado. Pour sauce over everything and gently fold to coat.
Serve the poke over the brown rice (or cauliflower rice) and red cabbage, and garnish with sesame seeds, chopped jalapeño, and fresh cilantro
Serve with lime wedges.