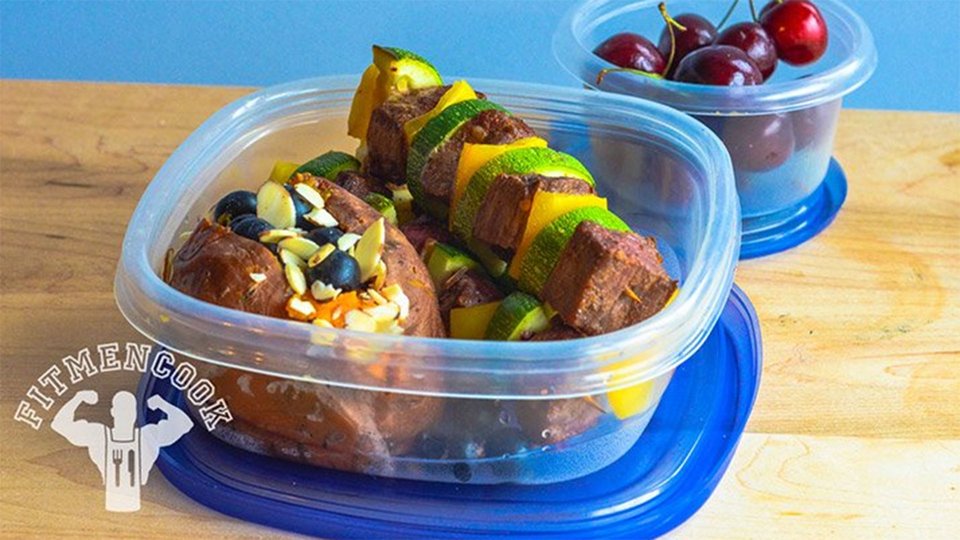 If I could only prep 3 meals per week, they'd definitely be breakfast, lunch, and my post-workout meal. The last thing you want after an amazing training session is to be unprepared. Use this post-workout meal—full of vitamins B, E, iron, and antioxidants—to refuel your body, replenish nutrients, and aid in muscle building and recovery.
Ingredients
5 oz flank steak
1 sweet potato
1 zucchini, sliced
1 green bell pepper
⅛ cup blueberries
1 tbsp almonds, slivered
1 tbsp honey
Directions
Set oven to 405°F.
Wrap the sweet potato in foil and place in the oven. If you cannot find a whole sweet potato close to your serving size, then simply cut the sweet potato into small pieces, measure them to ensure your serving size portion and bake them on a baking sheet lined with aluminum foil. Bake for about 45 minutes depending on the size. If they are cut in chunks, then bake for only 25-30 minutes.
Cut flank steak into very small pieces. Season with your choice of seasonings.
Chop 1 zucchini and 1 bell pepper into small pieces for the kabob.
Assemble the kabobs, alternating between beef, bell pepper, and zucchini.
Place the assembled kabob on a baking sheet/pan and bake for 8-12 minutes depending how well you like your meat cooked.
Note: when preparing this meal for the week, if you choose to add blueberries and almonds, keep those items separate and do not freeze.