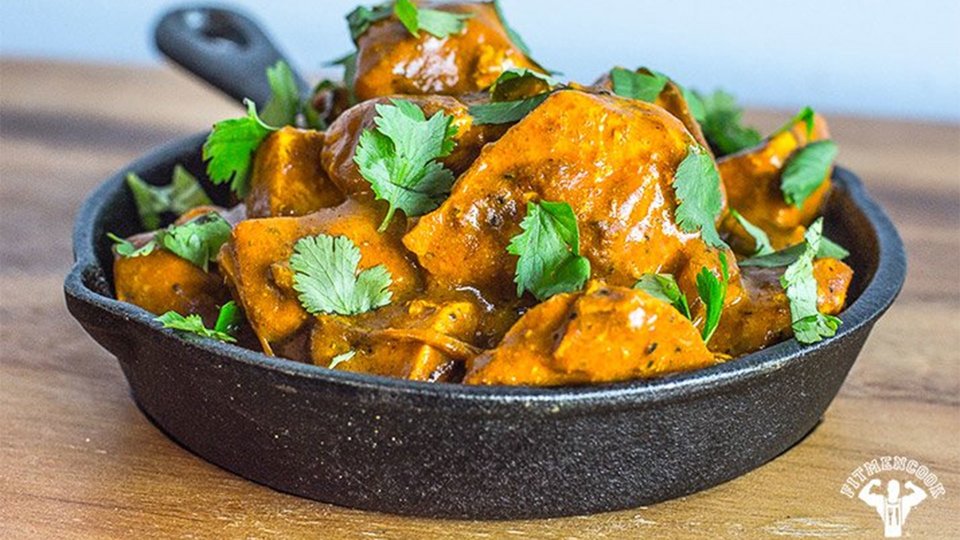 Who doesn't love a good curry dish? If you're not already reaping the benefits, it's time to add the joys of curry—which include blood sugar control, heart health, and the anti-inflammatory benefits of turmeric—to your diet. When plain chicken just won't do, add this spin on a traditional Indian favorite to your list.
Ingredients
1 lb chicken breast
½ cup red onion, sliced
¾ cup lite coconut milk
½ cup low-sodium chicken broth
1 tbsp garlic, minced
1 tbsp ginger root
Spices Ingredients
1 tbsp curry powder
½ tbsp turmeric
½ tbsp paprika
½ tbsp cayenne pepper
salt and pepper to taste
Directions
Cut the chicken breasts into small pieces. Spray a nonstick skillet with coconut oil and set on medium-high heat. Cook the chicken breasts. Do not worry about seasoning—that part comes later.
Spray another nonstick skillet with coconut oil and place on medium heat. Add the red onion, garlic, and ginger. Saute until the red onion is nearly translucent.
Add chicken broth, coconut milk, and seasonings to the skillet. Stir with a spatula. Let the sauce simmer, and then cover. Reduce to low heat to allow the sauce to cook and thicken.
Add cooked, chopped chicken breasts into the coconut curry mixture. Stir with a spatula and cook covered for about 5 minutes on low heat. Season with sea salt and pepper to taste.
Remove the skillet from the heat and allow the sauce to thicken.