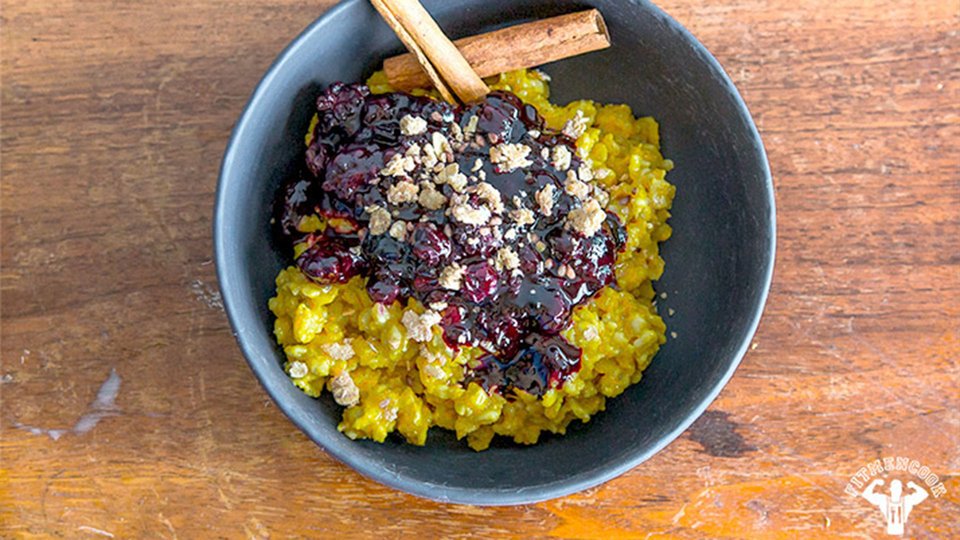 Packed with fresh, good-for-you ingredients, this oatmeal creation provides a hearty dose of complex carbs in an antioxidant-rich package. In addition to adding a vibrant, yellow hue, the turmeric—usually seen in savory, spicy dishes—acts as an anti-inflammatory and may help relieve heartburn or an upset stomach.
Ingredients
¾ cup rolled oats
⅓ cup blueberries
⅓ cup blackberries
3 tbsp walnuts, chopped
½ tbsp coconut oil
¼ tsp turmeric
¼ tsp allspice, ground
2 tsp powdered Stevia
1 pinch cinnamon
1 tbsp granola
Directions
Cook rolled oats as directed. Set aside.
Set a nonstick skillet on medium heat, add coconut oil. Allow the pan to get hot.
Toss in the berries. As they sear in the coconut oil, they will begin to naturally explode from the heat. Gently mash the berries as they cook to help them burst open.
Season the berries with a pinch or two of cinnamon, and stir with a spatula. Remove the berries from the heat and allow the sauce to thicken.
Add all of the ingredients except the berries to the bowl of oatmeal. Mix very well, and add a bit more cinnamon if desired.
Pour the warm berry syrup on top of the oatmeal.
Garnish with fresh granola to add some crunch.