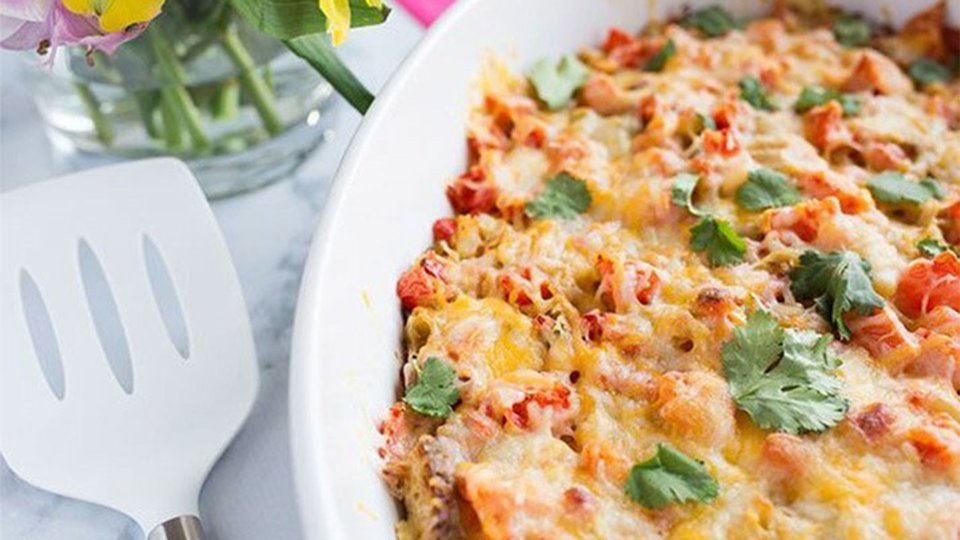 Breakfast casseroles aren't just for church potlucks. This delicious casserole can be easily prepped the night before so that the stress is taken out of your morning meals. With 5 grams of fiber and only 168 calories per serving, this breakfast dish will keep you full and deliver a bevy of beneficial nutrients.
Ingredients
½ tbsp olive oil
1 diced red bell pepper
1 onion, finely diced
4 oz green chilies, diced
½ tsp garlic powder
¼ tsp chili powder
⅛ tsp crushed red pepper flakes
5 egg
4 egg whites
1 cup skim milk
¼ tsp table salt
1 dash black pepper
10 slice regular whole-grain bread
4 oz chopped ham
2 italian tomato tomatoes
1 cup, shredded low fat cheese
Directions
Grease a 9x13 casserole dish with cooking spray and set aside.
Heat a large skillet over medium-high heat and add the oil, bell pepper, and onion. Cook until vegetables begin to soften, about 4-6 minutes.
Reduce the heat to medium-low and add the diced green chilies, garlic powder, chili powder, and red pepper flakes, cooking for an additional 1-2 minutes. Remove the skillet from the heat.
In a large mixing bowl, or in the bowl of a stand mixer with the whisk attachment, whisk together the eggs, egg whites, milk, salt, and pepper.
Slice the bread into 1-2-inch cubes and place on the bottom of the prepared casserole dish.
Spread the ham, cooked vegetables, and tomatoes over the bread. Pour the egg mixture over the casserole, and tightly cover the casserole dish with foil. Store in the refrigerator for several hours or overnight.
When ready to bake, preheat the oven to 350 degrees F. Top the casserole with cheese, and bake uncovered for 35-40 minutes or until the eggs are set.