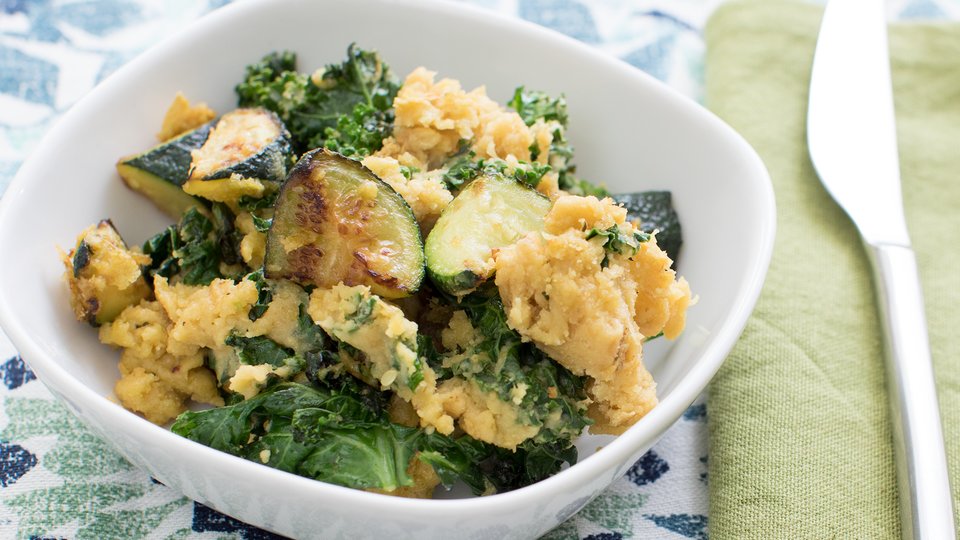 If you've never heard of socca, it's a naturally gluten-free flatbread made from chickpea flour, olive oil, and water. In this breakfast scramble, the socca batter cooks in the same pan with the sautéed zucchini and kale, infusing it with extra flavors and turning this classic French side dish into a savory and satisfying way to start your morning.
Ingredients
1 tbsp cumin
1 tsp table salt
½ cup chickpea flour (besan)
¾ cup water
2 tsp olive oil
1 cup zucchini, sliced
2 clove garlic, minced
1 tsp crushed red pepper flakes
1 pinch table salt
1 cup 1" pieces, loosely packed kale
Directions
Combine salt, cumin, and chickpea flour in a bowl. Slowly whisk in the water to form a smooth batter. Add olive oil to the batter.
In a hot skillet, sauté the zucchini and garlic with a little bit of olive oil. Season with salt and crushed red pepper.
After a few minutes, add the kale and cook until it begins to wilt.
Pour in the socca batter, and stir gently as it cooks to break it up into chunks. Cook until the batter is all set.