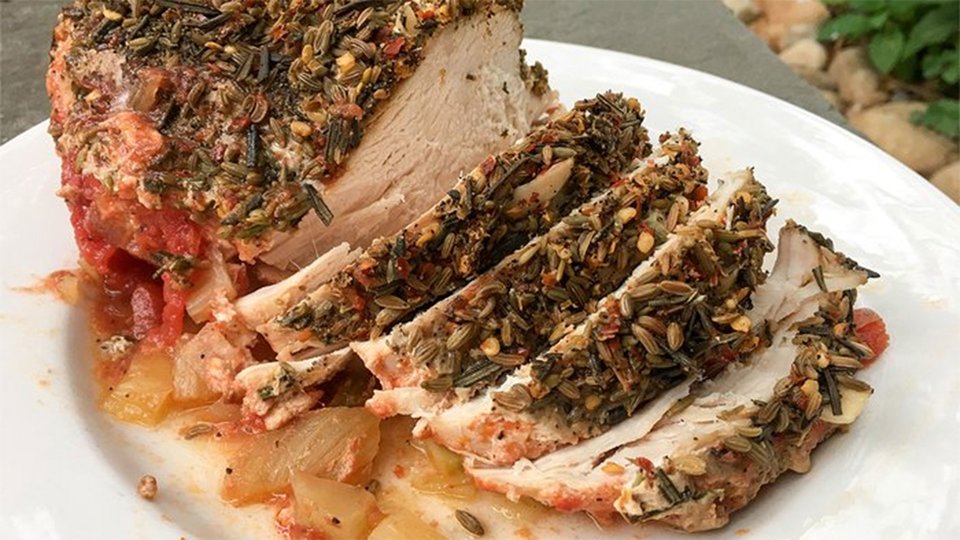 Rather than spending the morning wrestling with a large bird and making a mess in the kitchen, try the "fix it and forget it" approach. You'll free up your oven for other dishes and minimize cleanup with this slow-cooker staple. And as a bonus, this turkey cooks on top of a bunch of delicious vegetables, so you'll end up with a built-in side dish! If you've never had veggies that have cooked under meat for hours and hours, well, let me just say these are what we end up fighting for in my house!
Ingredients
2½ cup red onion, diced
1 cup stalk celery, finely diced
1¾ cup, sliced fennel bulb, stalks removed
2 tbsp olive oil
1 cup low-sodium chicken broth
28 oz tomatoes, canned
14½ oz tomatoes, crushed, canned
5 tsp kosher salt
5 tsp, ground black pepper
4 tbsp rosemary
2½ tsp, whole fennel seeds
2 tsp orange zest
1½ tsp crushed red pepper flakes
9 clove garlic, minced
3 lb turkey breast, boneless and skinless
Directions
Sauté the onion, celery, and fennel in extra-virgin olive oil in a large skillet over medium heat until soft, about 5 minutes.
Increase the heat to high, and stir in the chicken broth. Boil until the broth is reduced by half, about 2-3 minutes.
Break up the whole tomatoes with a wooden spoon, then add them to the broth.
Stir in 1-1/2 teaspoons of the salt and half a teaspoon of pepper. Transfer the veggies to the slow cooker.
Use a sharp knife to cut 1-inch slits in the turkey every inch. Insert garlic slices into each slit.
Place the turkey breast on top of the veggies. Combine the rosemary, fennel, orange zest, pepper flakes, and remaining salt and pepper, and rub the seasoning all over the turkey. Press it in to make sure it sticks.
Cook on low for 7-8 hours (or 4 hours on high if pressed for time).