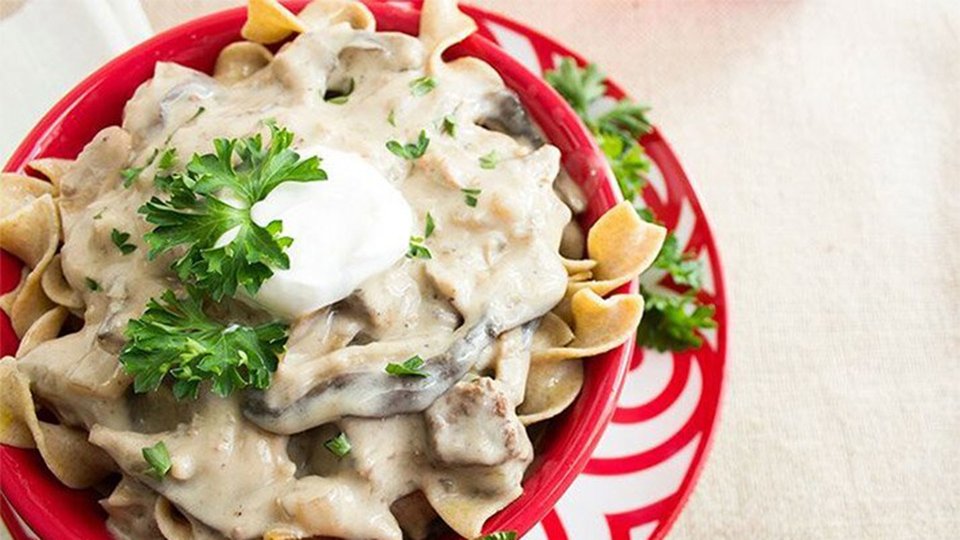 This meal might already be one of your favorites, but you're likely chowing down on the unhealthy version that's loaded with fat and calories. Next time you get a craving for creamy stroganoff, reach for the skinny version instead! This stroganoff tastes amazing, has 6 grams of fiber, and packs a whopping 29 grams of protein per serving.
Ingredients
24 oz beef, chuck for stew, cut into cubes
16 oz mushrooms, crimini
1 can (10.75 oz) low-sodium cream of mushroom soup, condensed
1 onion, finely diced
¾ cup low-sodium beef broth
2 tbsp sherry vinegar
2 tbsp worcestershire sauce
2 tbsp garlic, minced
2 tsp table salt
1½ cup whole-grain egg noodles
1 cup nonfat plain Greek yogurt
1 bunch flat-leaf parsley
Directions
Place the meat, mushrooms, mushroom soup, onion, beef broth, sherry, Worcestershire sauce, garlic, salt, and black pepper in the slow cooker and stir together.
Cook on high for 3 hours or low heat for 6 hours. About 30 minutes before cooking time is up, bring a large pot of salted water to a boil over high heat. Cook the noodles to al dente according to package directions.
Drain the noodles, and add to the slow cooker along with the yogurt. Stir to combine, and heat through on low heat before serving.
Serve garnished with the parsley.