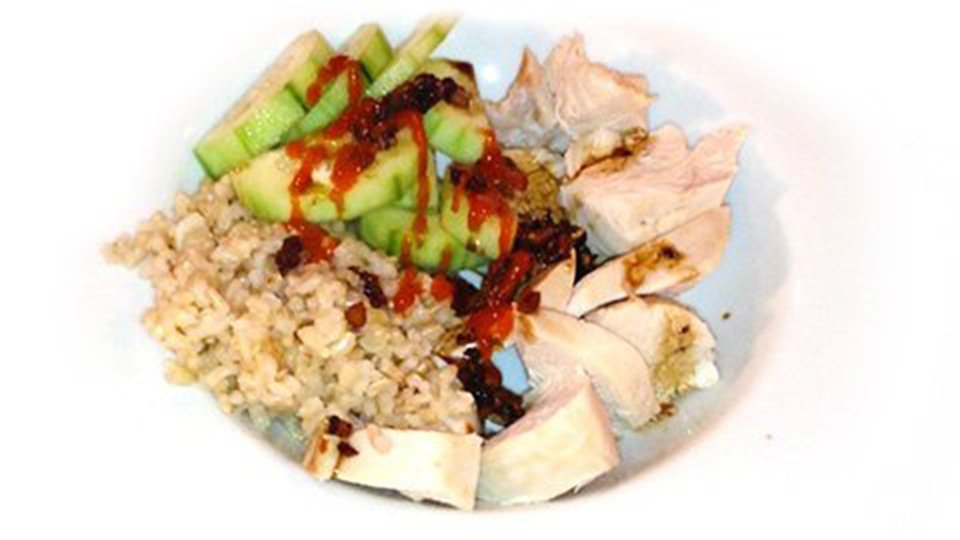 Singapore's national signature dish is chicken rice. To most dieters and competitors, this recipe probably sounds bland and all too familiar. But Singapore chicken rice has one special component: the sauce. The yummy sauce ties all the ingredients together and sets the recipe apart from your usual chicken and rice fare. I took a crack at this recipe, thanks to my stepmom, and I came up with an even healthier version with a few minor adjustments.
Ingredients
2 piece chicken breast
1 cucumber (8-1/4") cucumber, chopped
1 cup brown rice
1 cup chicken bone broth
4 Tbsp garlic, chopped
4 tbsp ginger, minced
½ tbsp sesame seed oil
3 tbsp light soy sauce
1 tsp sriracha
Directions
Prepare brown rice with 1 cup chicken broth and 1 cup water; add half of the sliced ginger to rice while it cooks.
Bring water in a cooking pot to a boil, reduce to a low rolling boil and add chicken breasts. Cook for 8 minutes or until done.
Heat a saute pan over medium heat and add sesame oil, fresh garlic, and remaining ginger.
Stir continually until garlic begins to crisp. Add soy sauce.
When chicken is done, cut it into bite-sized pieces.
To serve, put 1/2 cup of brown rice, 4 oz diced chicken, and 1/4 of sliced cucumber in a bowl. Top with garlic mixture.
For added spice, top with Sriracha or chili paste.