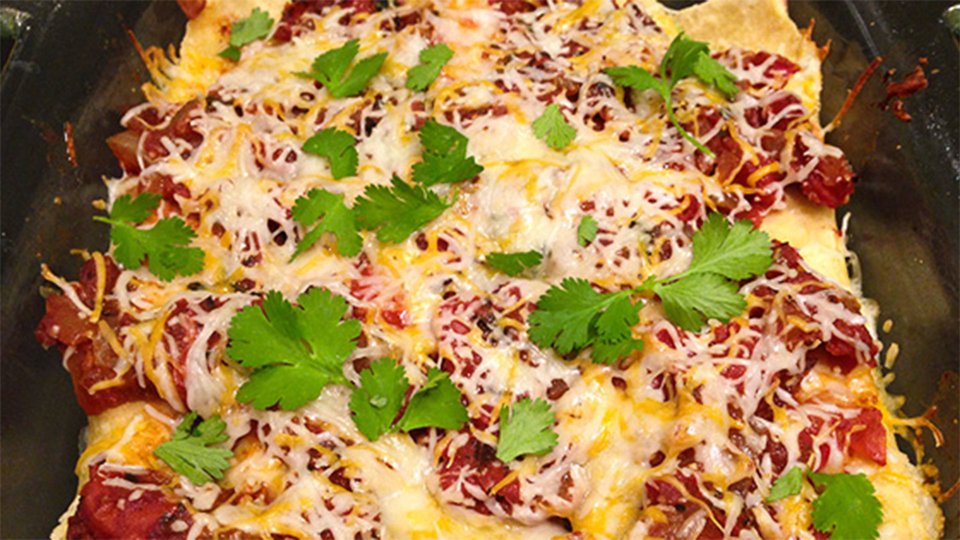 Usually, I leave enchiladas off the menu. They're smothered in cheese and full of grease—not what I would choose as a healthy option. However, I know that many people love enchiladas, so I took my crack at a healthier version. After this successful experiment, I came out an enchilada believer!
For chicken mixture Ingredients
2 piece chicken breast
1 cup nonfat plain Greek yogurt
2 tbsp lime juice
4½ oz green chilies, diced
1 tsp cumin
salt and pepper to taste
For enchilada sauce Ingredients
1 can diced tomatoes
1 tbsp olive oil
½ onion, finely diced
4 clove garlic, minced
1 tsp cumin
1 tsp chili powder
¼ cup cilantro
¼ tsp balsamic vinegar
½ tsp powdered Stevia
salt and pepper to taste
6 whole corn tortilla
¼ cup reduced-fat Mexican cheese
Directions
Preheat oven to 350 degrees.
In a large pan, heat olive oil for one minute on medium heat.
Add garlic, onion, and spices and sauté for 5 minutes.
Add tomatoes, Stevia, vinegar, and cilantro.
Cover and let simmer for 20 minutes.
In a mixing bowl mix together cooked and shredded chicken, Greek yogurt, lime juice, green chills, cumin, salt, and pepper.
Spray 9x9 baking dish with non-stick spray.
Spread a thin layer of enchilada sauce on the bottom of the dish.
Spoon chicken mixture into tortillas, roll each one, and place in dish seam-side down.
Pour remaining sauce over the top of rolled tortillas, sprinkle with cheese, and then garnish with cilantro.
Bake for 20 minutes.