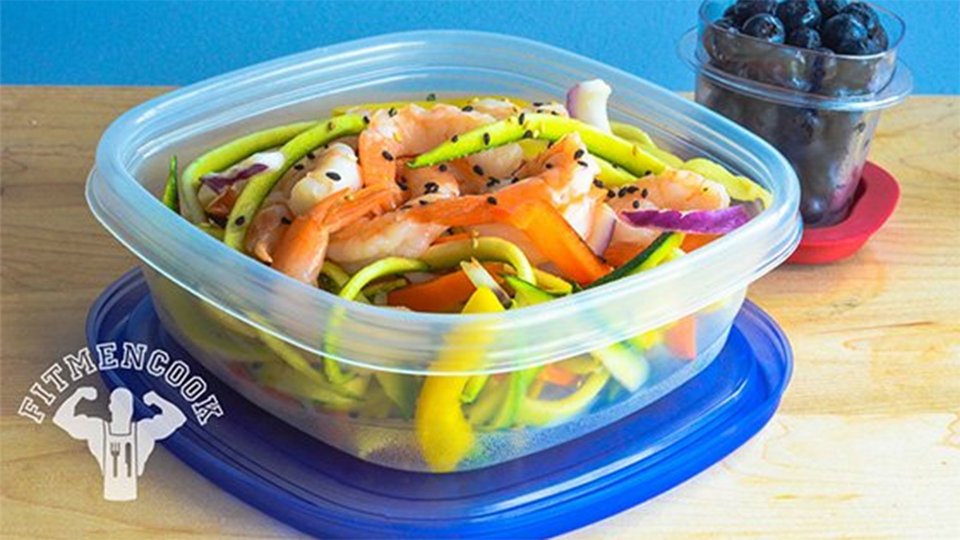 One of my mottos: "No boring food. Ever." That's especially true for salads. Spruce up that lowly bed of lettuce with good-for-you protein and fresh, raw veggies. In the right amount they can be satisfying, filling, and supply your body with the needed vitamins, antioxidants, and enzymes to aid in digestion, heart function, and overall health.
Ingredients
6 oz shrimp
1 whole zucchini, sliced
1½ cup, sliced red bell pepper
1 tbsp tahini paste
½ tbsp sesame seeds
Directions
Cut zucchini using a Julienne shredder in order to make the raw linguine.
Slice veggies for pasta.
In a bowl, mix tahini, sesame oil and Bragg's Liquid Aminos.
Place all ingredients into a large bowl, including cooked shrimp. Pour the Tahini sauce you made over the meal. Toss it to make sure all sides are covered in the sauce.
Sprinkle sesame seeds on top. And then devour!