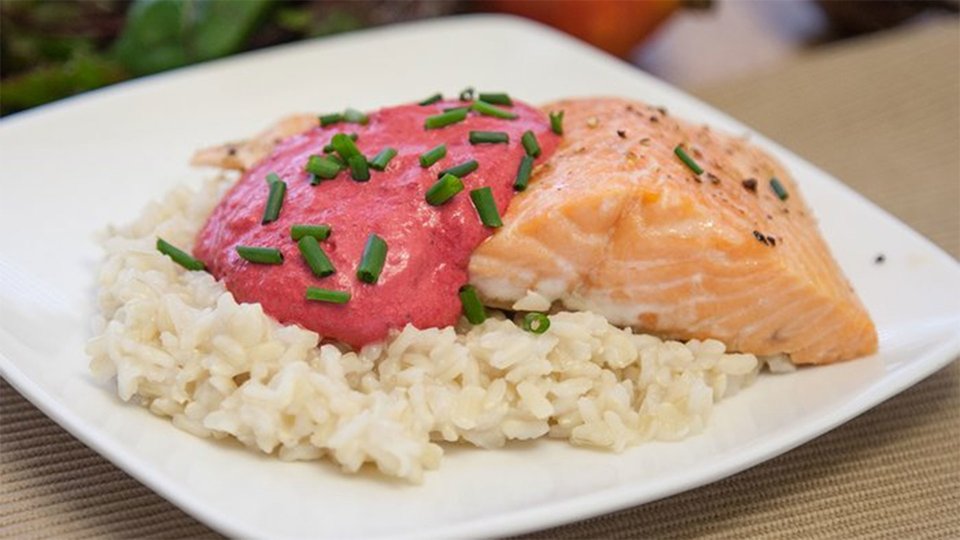 Here's a restaurant-worthy way to jazz up a plate of fish. And, unlike most cream-based sauces, this beety version isn't a calorie bomb. If desired, rainbow trout or arctic char can be used in lieu of salmon.
Ingredients
1 beets, cut into cubes
24 oz salmon fillet
½ cup reduced-fat sour cream
2 tbsp olive oil
1 tbsp apple cider vinegar
1 tbsp horseradish
1 tsp lemon zest
¼ tsp table salt
¼ tsp, ground black pepper
2 tbsp chopped chives
Directions
Preheat your oven to 400 degrees F. Toss the beets with a bit of oil, spread them on a baking sheet, and roast until very tender, about 30 minutes. Remove the beets from the oven.
Place the salmon skin-side down on a baking sheet lined with parchment paper, season it with salt and pepper, and bake until the fish is just cooked through in the middle, about 12 minutes.
Blend the roasted beets, sour cream, olive oil, vinegar, horseradish, lemon zest, salt, and pepper in a blender or food processor until smooth. If needed, blend in water a tablespoon at a time, to help reach a creamy consistency.
Serve the salmon topped with beat cream and chives.