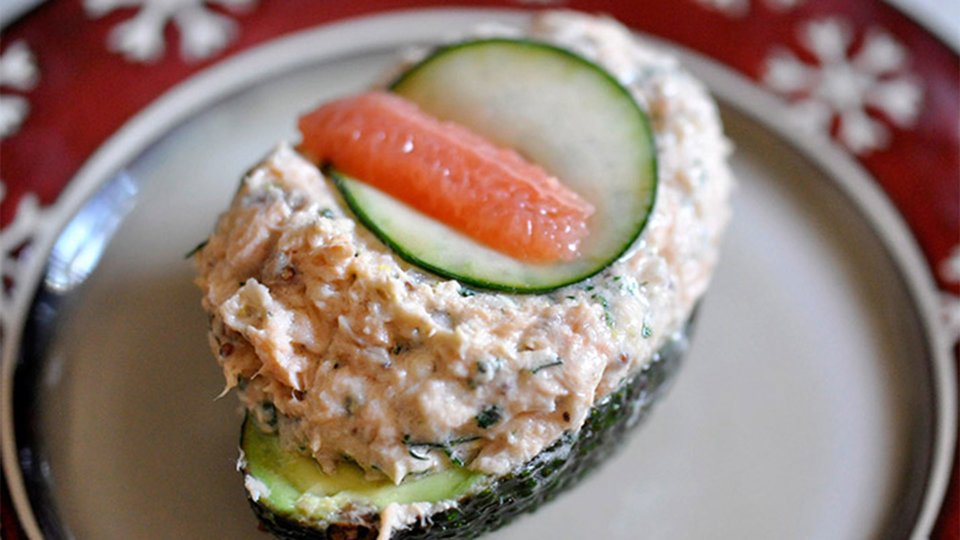 I love avocado. It's one of my favorite superfoods, not only because it's incredibly good for you, but also because of how versatile it is. I love to make avocado the star of my dishes and eat it at breakfast, lunch, and dinner. This refreshing dish pairs smooth, creamy avocado with flavorful salmon salad for a revitalizing dinner or lunch.
Ingredients
2 fillet salmon fillet, pan-seared
½ tsp dill
6 tsp champagne vinegar
½ lemon yields lemon juice
4 scallions, sliced
salt and pepper to taste
1 avocado
½ cucumber, thinly sliced
¼ grapefruit
Directions
In a medium bowl, mash the salmon with the dill, vinegar, lemon juice, and scallions until combined.
Halve the avocado lengthwise and remove the pit.
Split the salmon salad into two equal portions, and fill the avocado halves. You can garnish with cucumber and a piece of grapefruit.