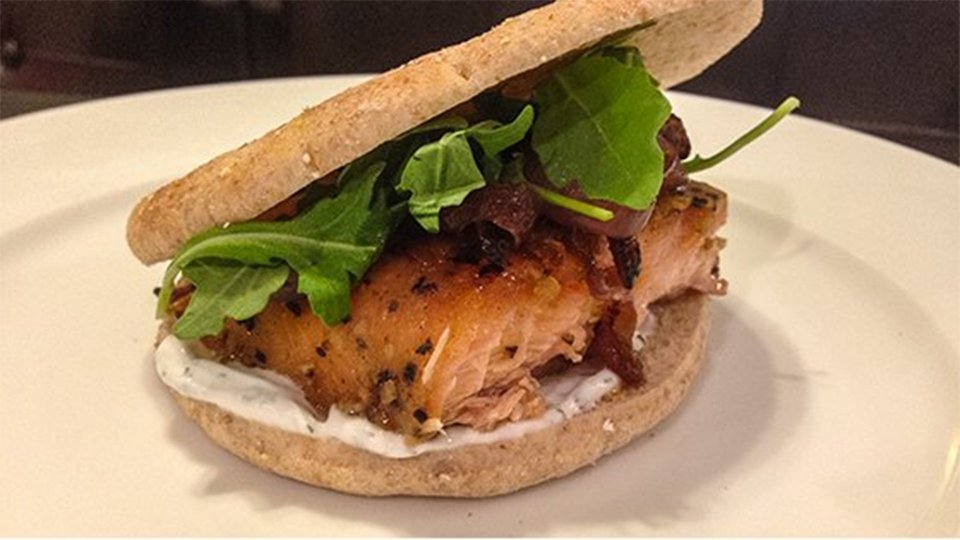 Pack in the omega-3 fatty acids with this tangy, flavorful fish dish! Not only is salmon low in fat and calories, but one 4 oz. serving has 24 grams of protein. Top with sautéed onions and yogurt dill sauce for that perfect hot-cold combination!
Ingredients
8 oz salmon fillet
¼ tsp mesquite seasoning
¼ red onion, sliced
1 cup arugula, raw
¼ cup nonfat plain Greek yogurt
1 tsp dill
4 slice whole-wheat sandwich thins
Directions
Heat grill.
Sprinkle salmon with mesquite seasoning.
Grill fish to desired temperature (8-12 minutes).
In a small bowl, mix together Greek yogurt and dill.
Sauté red onion in small sauté pan until caramelized.
Spread a thin layer of yogurt sauce on sandwich thin. Place salmon fillet on top and garnish with red onions and arugula.