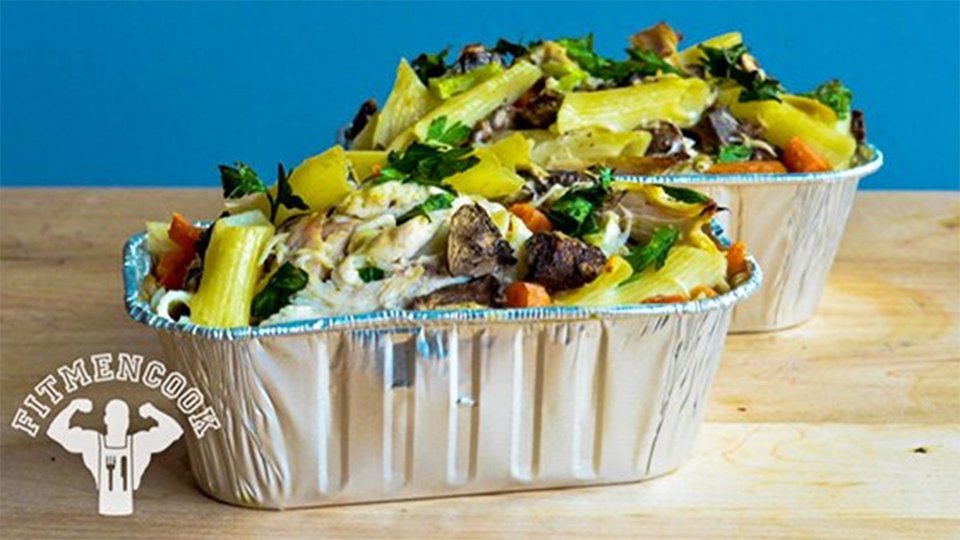 Well, it's not your mom's homestyle chicken noodle soup, but it does the trick when you're pressed for cash and low on fitness fuel. All you need to do is purchase a rotisserie chicken from your local grocery store, remove the skin, and boom! You have instant, delicious protein for several meals.
Ingredients
4 oz chicken, rotisserie, chopped
⅓ cup shells whole-wheat pasta
½ cup low-sodium chicken broth
1 tbsp nonfat plain Greek yogurt
¼ cup chopped carrots
¼ cup stalk celery, finely diced
¼ cup mushrooms, sliced
½ bunch flat-leaf parsley
1 tsp cumin
1 dash black pepper
1 tsp garlic powder
1 tsp onion powder
1 tsp Mrs Dash
Directions
Set oven to 405 F.
In a pot, boil and cook your wheat pasta. Rinse and set aside.
Dice your raw carrots and mushrooms.
Weigh and separate 4 oz baked chicken meat. In a small disposable ramekin or baking dish, add chicken, pasta, Greek yogurt, veggies, and seasonings. Stir with a spoon or mini-spatula.
Pour chicken broth over the mixture, ensuring that a majority of the noodles are covered so that they won't burn when baking.
Top with fresh parsley.
Bake in the oven for 20-25 minutes. Remove from the oven and enjoy. If you are doing this as a prepped meal for the week, be sure to transfer contents to a microwave-safe container.