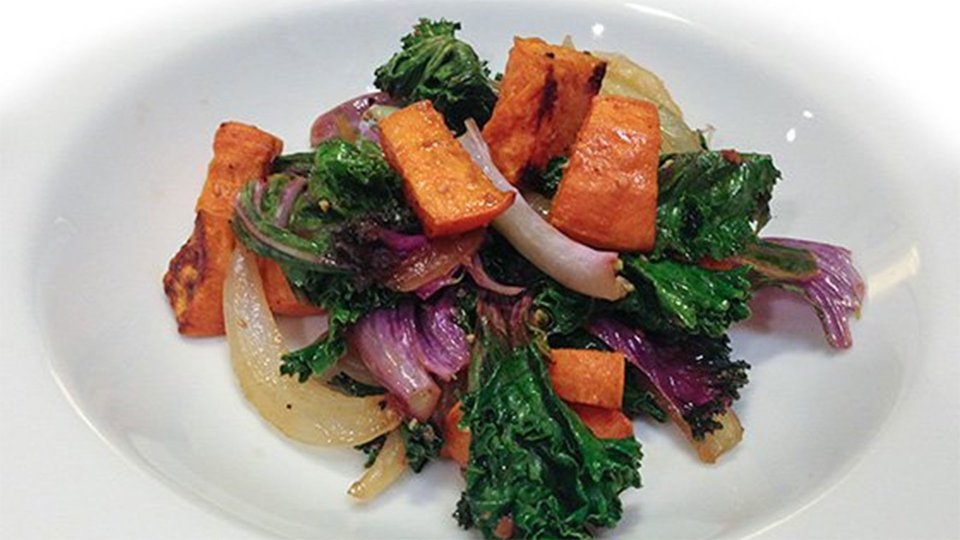 What the kale? Just when you thought your diet regimen couldn't get any better, we went and added some green to your sweet potato. Similar to spinach, kale contains plenty of copper and iron as well as vitamins A, C, K, folic acid, calcium, and potassium. Tuck Edna's potato salad recipe back in the cookbook where it belongs and make the switch to sweet.
Ingredients
1 sweet potato, peeled
½ onion, sliced
1 cup purple kale
1 tbsp garlic, minced
1 tbsp olive oil
1 tbsp balsamic vinegar
salt and pepper to taste
Directions
Preheat oven to 400 degrees.
In a medium bowl, mix 1/2 tbsp olive oil with salt and pepper.
On a baking sheet, spread sweet potatoes in a thin layer and roast for 30 minutes, or until lightly browned and tender.
While the potatoes roast, heat 1/2 tbsp olive oil in a pan over medium heat.
Add garlic and onions and saute until caramelized.
Cut kale leaves from stem and into bite-sized pieces. Add to pan with garlic and onions. Cook until wilted.
In a large bowl, pour kale and onion mixture. Drizzle mixture with balsamic vinegar and sprinkle with salt and pepper.
Add roasted potatoes to bowl and mix.
Place bowl in refrigerator until salad as cooled to room temperature.