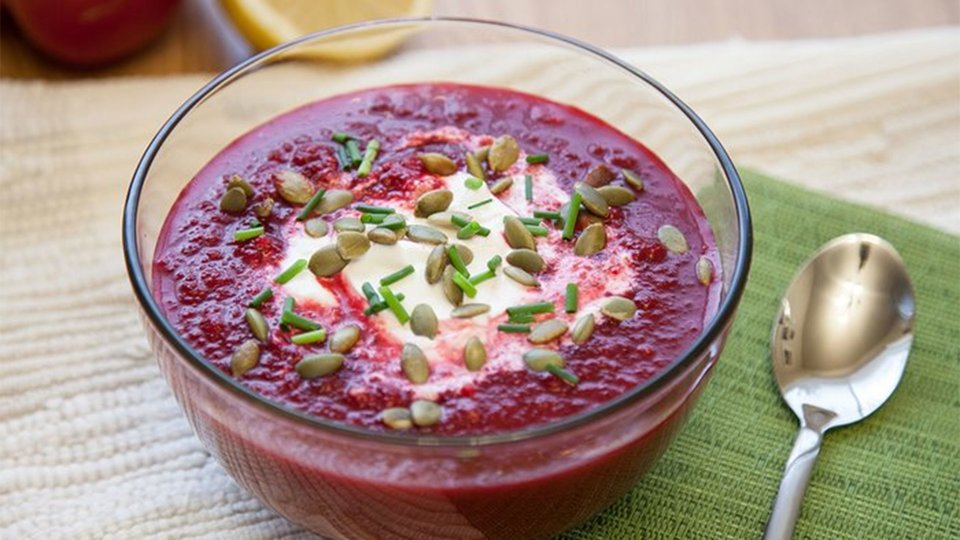 Employing a roasting method to coax out more natural sweetness from the vegetables, this ruby red soup is sure to bowl you over. As with most purée soups, it actually gets better after being refrigerated for a day or two.
Ingredients
5 beets, cut into cubes
1 onion, sliced
2 red bell pepper, sliced
4 clove garlic, chopped
2 tsp canola oil
4 cup low-sodium vegetable broth
2 medium apple, red
½ lemon yields lemon juice
2 tsp italian seasoning
½ tsp table salt
¼ tsp crushed red pepper flakes
¼ tsp, ground black pepper
4 tbsp pumpkin seeds
Directions
Preheat a rimmed baking sheet in the oven at 400 degrees F. Toss the beets, onion, red pepper, and garlic with canola oil, then spread them out on the hot baking sheet. Roast for 20 minutes. Stir in the apples, and continue roasting until the beets are tender and the vegetables have darkened, about 15 minutes.
Pour vegetable broth into a blender and add the roasted vegetables, lemon juice, Italian seasoning, salt, chili flakes, and black pepper. Blend until it becomes very smooth, adding more liquid if the mixture is too thick. If you have a small blender container, do this in 2 batches. Reheat the mixture if necessary, and serve it garnished with pumpkin seeds.
Note: Other garnish options include crumbled goat or feta cheese, roasted chickpeas, a dollop of Greek yogurt or sour cream, or chopped chives. To push the protein, consider lump crab meat or a high-quality canned tuna.