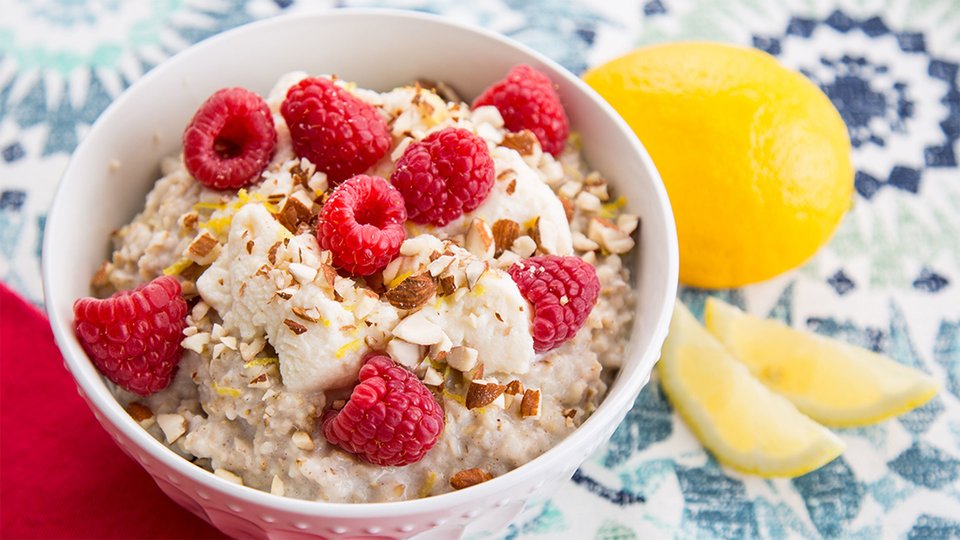 This dynamic duo supplies oatmeal with a creamy sweetness that's sure to release an early-morning dopamine surge. Ricotta cheese adds additional calcium and protein to your morning routine, and is one of the best dairy sources of whey protein, a nutrient that helps build muscle.
Steel Cut Oats Foundation Ingredients
¼ cup steel-cut oats
⅝ cup water
1 pinch salt
Ricotta And Raspberries Topping Ingredients
½ cup milk (2% fat)
1 tsp lemon zest
1 tbsp cinnamon
½ tsp cinnamon
2 tsp honey
¼ cup ricotta cheese (skim-milk)
½ tsp vanilla extract
½ cup raspberries
2 tbsp almonds, chopped
Directions
Place steel-cut oats, a pinch of salt, and water in a medium saucepan.
Bring to a slight simmer, turn off the heat, and let oats soak covered overnight.
In the morning, heat prepared oats with milk, lemon zest, and cinnamon.
Mix ricotta with honey and vanilla extract.
Top bowls of oatmeal with ricotta mixture, fresh or frozen (thawed) raspberries, and almonds.