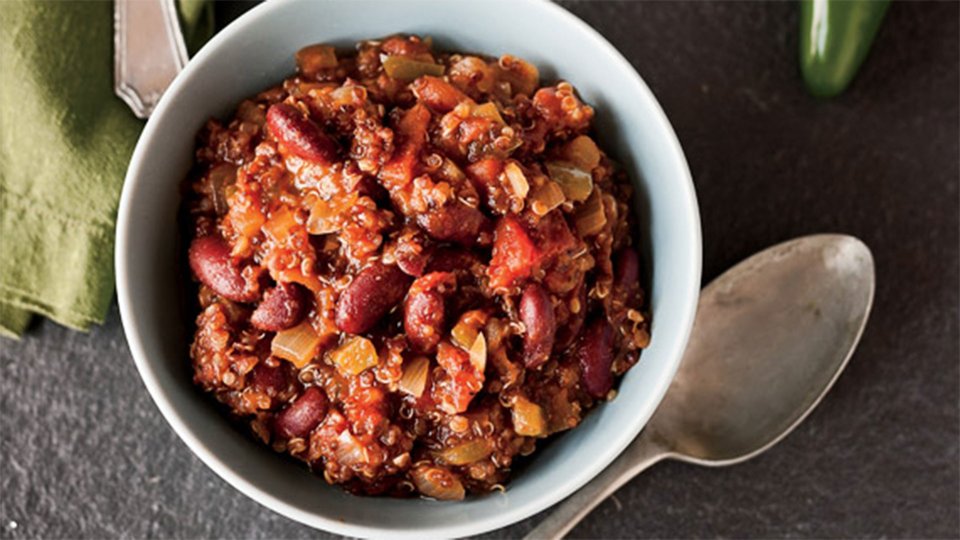 This cholesterol-free vegetarian chili is high in fiber and low in saturated fat, a dynamic duo that keeps your blood flowing to your muscles and organs. Plus, one serving packs about one-third of your daily potassium need, which keeps blood pressure in check and your heart and muscles in working order.
Ingredients
1 cup red quinoa
2 14 oz can kidney beans, canned
2 can diced tomatoes
2½ cup water
1 onion, finely diced
1 green pepper, chopped
1 jalapeno pepper, diced
1 bay leaf
2 tbsp sun-dried tomatoes
2 tbsp olive oil
1 tbsp tomato paste
1 tbsp vegetable bouillon
1 tbsp lemon juice
1 tbsp honey
2 tsp cumin
1 tsp, ground oregano
1 tsp garlic powder
1 tsp ground chipotle powder
1 tsp paprika
½ tsp salt
½ tsp, ground black pepper
Directions
Add all ingredients to the slow cooker.
Cover and cook 8-10 hours on low (or 4-5 hours on high).
Remove bay leaf and stir well before serving.