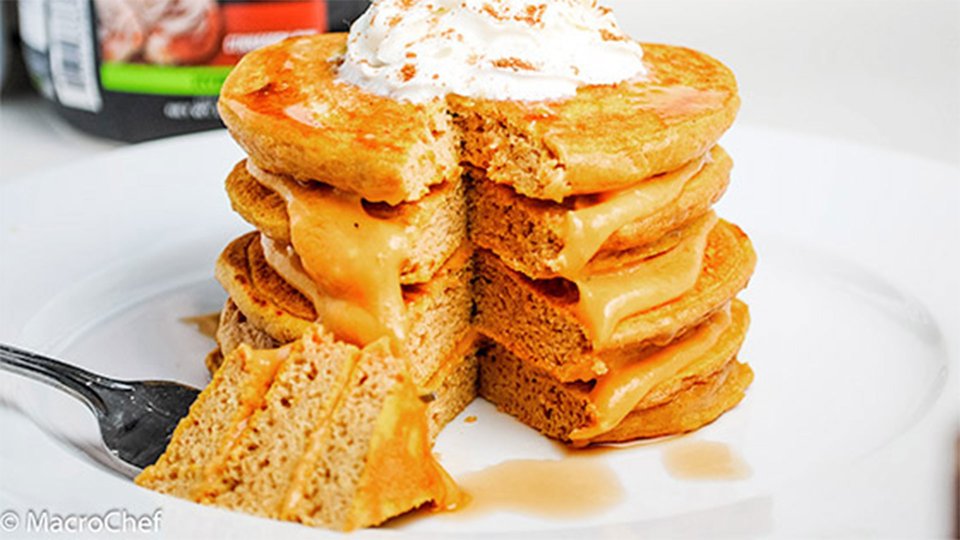 You can't forget waffle's best friend: pancakes! That would be silly. Pumpkin lovers, you'll fall head over heels for these flapjacks that are topped with pumpkin vanilla pudding.
Pancake Ingredients
½ cup whole-wheat flour
1 scoop MusclePharm Combat Powder (Cinnamon Bun)
1 tbsp powdered Stevia
1 cup pumpkin, canned
¼ cup unsweetened almond milk
1 whole egg
½ tsp pumpkin pie spice
½ tsp baking powder
½ tsp vanilla extract
Topping Ingredients
2 tbsp sugar-free vanilla pudding mix
1 cup pumpkin, canned
Directions
Preheat pan or griddle to medium-high heat.
Mix flour, protein powder, Stevia, pumpkin pie spice, and baking powder. In a separate bowl, mix pumpkin, almond milk, egg, and vanilla extract.
Add wet ingredients to dry and mix until combined. Be careful not to over mix.
Spoon batter onto griddle to make four medium-sized pancakes. Cook for about 3 minutes. Flip and cook for another 3 minutes.
In a small bowl, mix vanilla pudding mix with enough water to make it a pudding consistency. Add pumpkin and mix again until smooth.
Layer pancakes with pumpkin vanilla pudding. Top with whipped cream, maple syrup, and a sprinkle of pumpkin pie spice.