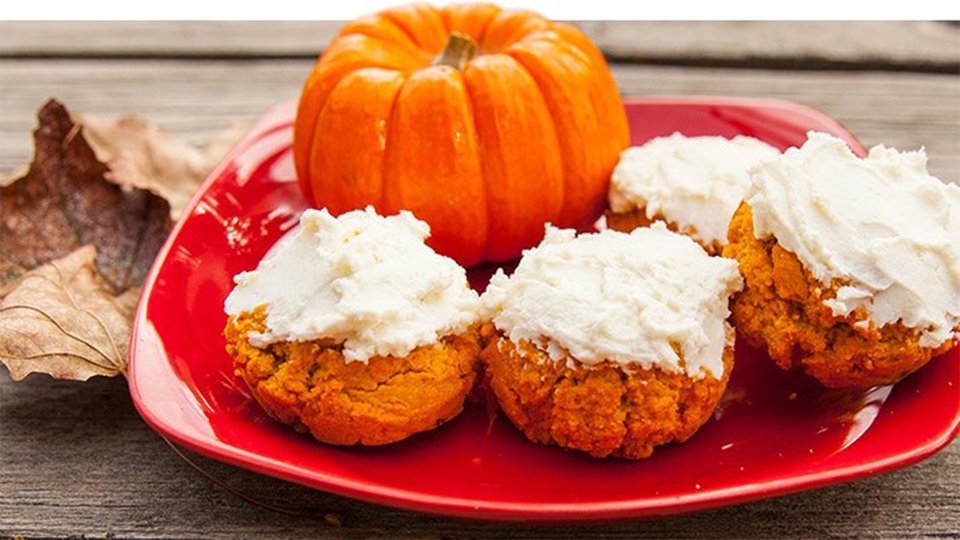 Pumpkin pie is the traditional dessert served at Thanksgiving but unfortunately, unless you are willing to complete forgo the crust, it's a difficult one to make lighter. Fortunately this is a quick fix if you opt for a more nutritionally sound pumpkin-nut loaf. This serves as an excellent wind down to a Thanksgiving meal served along with a cup of flavored coffee or tea.
Ingredients
2 tbsp canola oil
2 tbsp unsweetened applesauce
¾ cup pumpkin puree
½ cup organic honey
3 tbsp brown sugar
1 whole egg
2 egg whites
¼ cup whole-wheat flour
¼ cup(s) vanilla whey protein powder
½ cup rolled oats
½ cup all-purpose flour
2 tbsp ground flaxseed
½ tsp baking powder
½ tsp allspice, ground
½ tsp cinnamon
½ tsp nutmeg
¼ tsp ground cloves
¼ tsp table salt
2 tbsp almonds, slivered
2 tbsp pecans, chopped
¼ cup fat-free cream cheese
8 tbsp splenda
1 tsp vanilla extract
Directions
Begin by preheating the oven to 350 degrees F and coat an 8 by 4 inch loaf pan with cooking spray. Set aside.
In a large bowl combine the canola oil, applesauce, pumpkin puree, honey, brown sugar Splenda, and egg and egg whites.
In another bowl, mix together the flour, oatmeal, protein powder, flaxseed, baking powder, and spices. Add this mixture to the pumpkin mixture and using an electric mixer on medium speed, beat until well blended.
Finally, pour the batter into a prepared pan and then sprinkle with slivered nuts over the top of the batter. Place in the oven and bake for between 50 and 55 minutes or until a toothpick comes out lean. Carefully remove the loaf from the pan and allow to cool on the counter completely.
Once cool, in another bowl microwave the cream cheese until slightly soft (for easier spreading) and then stir in the Splenda and vanilla extract. Smear this over the top of the loaf and then cut into slices and serve.