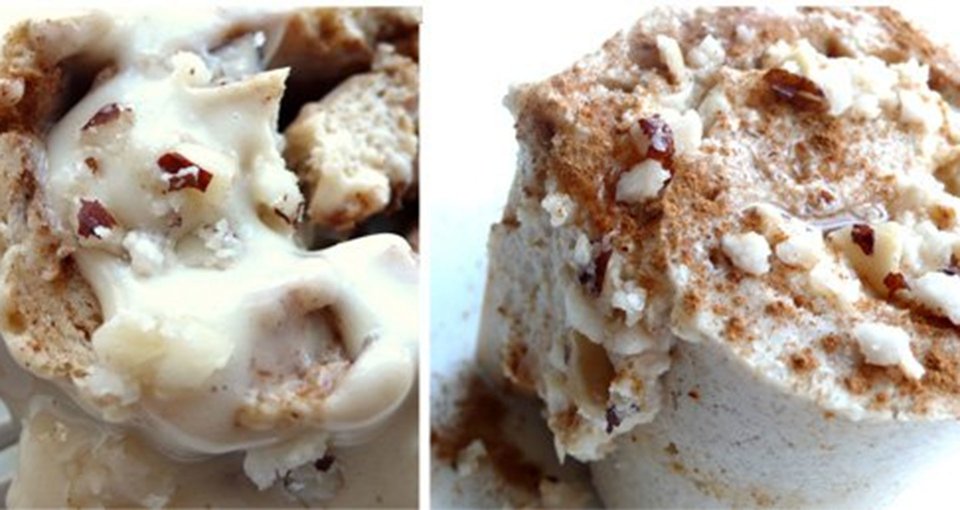 The quickest and simplest way to go about making a protein cinnamon roll is to bake a cakey and "rollable" pancake, cut it into thick strips, coat each layer with frosting, and then roll them up. Before you eat one, top it with more frosting, cinnamon, and nuts. Your taste buds will sing!
Cake Ingredients
½ cup liquid egg whites
½ cup Gaspari Nutrition MyoFusion Advanced Protein, Cinnamon Roll
⅛ cup oat flour
1 tsp baking soda
1 whole egg
Frosting Ingredients
½ cup(s) vanilla whey protein powder
½ cup nonfat plain Greek yogurt
1 tsp sugar-free maple syrup
Topping Ingredients
1 tbsp cinnamon
1 handful walnuts, chopped
Directions
Preheat oven to 320-338 degrees F.
Blend all ingredients for cake together.
Pour batter into a large brownie pan. (I like to use silicone bake ware.) Bake for 10-15 minutes.
When the cake is done, you'll notice it's pretty flat-kind of like a pancake-this is what we want. Allow cake to cool.
While cake is cooling, mix all ingredients for frosting in a bowl.
After cake is cooled, slice it into three or four strips and then coat each strip with frosting. Sprinkle with cinnamon. Be sure to leave some frosting for topping.
Roll each cake strip to create the cinnamon roll.
Top each roll with the rest of the frosting, nuts, and cinnamon.