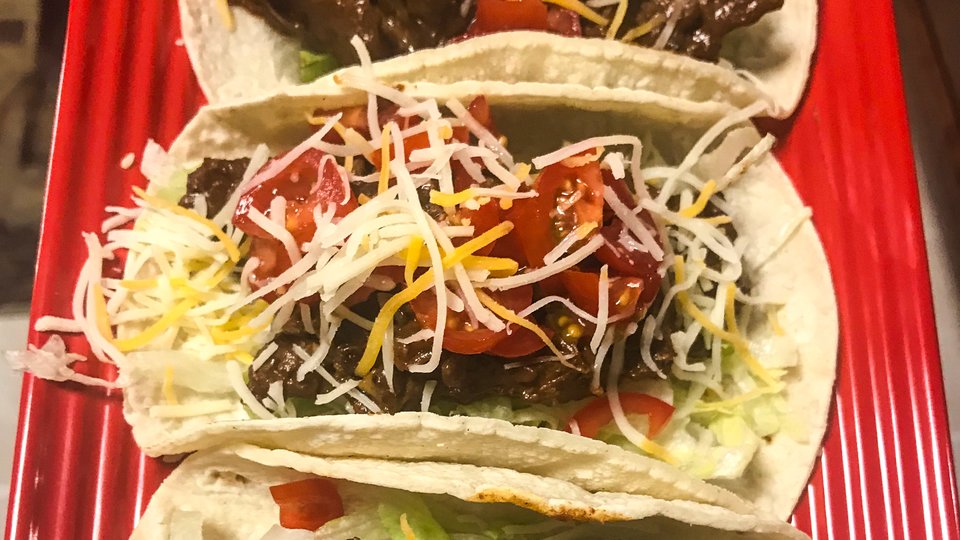 Legend has it that a stiff wind through the kitchen led to the creation of mole sauce—an unexpected combination of sweet and savory tastes. Make yourself some complex, tasty, spicy mole, then spread it on a street taco. Doesn't get better than this!
tacos Ingredients
6 oz skirt steak cubed
3 whole corn tortilla
28 g mexican four-cheese blend
30 g grape tomatoes
36 g lettuce shredded
mole sauce Ingredients
2 tbsp olive oil
1 Tbsp garlic, chopped
¾ cup low sodium chicken broth
½ tsp, ground oregano
½ tsp, whole cumin seed
¼ tsp cinnamon
¼ tsp cayenne pepper
2 tsp chili powder
20 g onion, finely chopped
½ tsp arrowroot starch
20 g Pro Jym Cookie Crunch
Directions
Place a nonstick skillet over medium heat.
Add the steak pieces, cook until brown on all sides (about 4 minutes), remove from pan, and set aside.
Wipe out pan and heat 2 teaspoons of oil over medium heat.
Add onion, garlic, oregano, cumin, cayenne, and cinnamon. Cook until onion is translucent, stirring occasionally. Remove from pan and set aside.
Deglaze the pan by pouring in 1/4 cup of chicken broth. Be sure to scrape all bits off the bottom of the pan with a wooden spoon.
Add chili powder to chicken broth, and stir for 1 minute.
Add remaining chicken broth, bring to a boil, then lower heat to simmer. Whisk in arrowroot starch and Chocolate Cookie Crunch Pro JYM until well incorporated. Simmer for 10 minutes, stirring occasionally, until sauce begins to thicken.
Add steak to the skillet and cook over low heat for 15 minutes, until sauce has reduced by half and completely coats the meat.
Divide the steak evenly between warmed tortillas. Top with lettuce, cheese, tomatoes, and any other desired toppings.