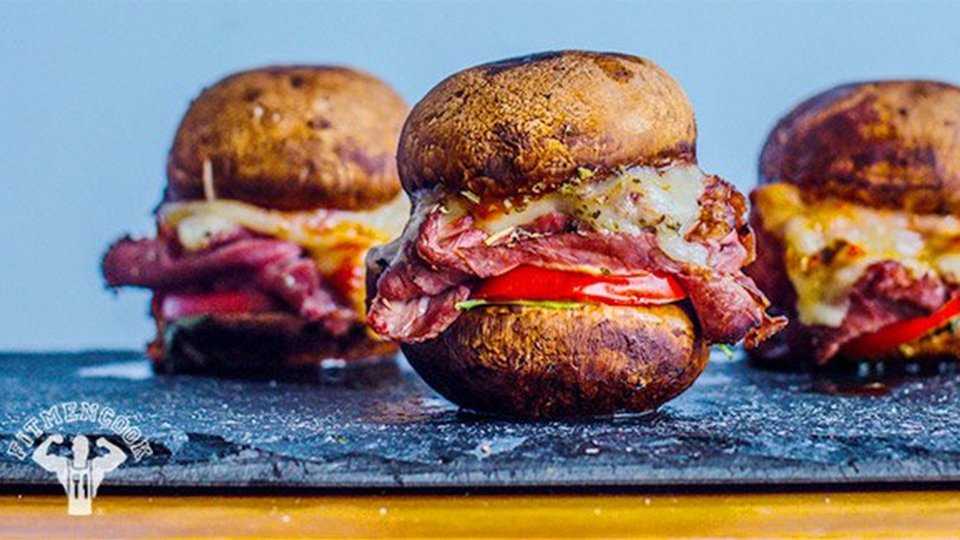 Mushroom caps don't have to be reserved for appetizers alone. Break out the big guns with this fungus-fueled dish. The combination of veggies, cheese, and meat has never been more on point—or delicious.
Ingredients
12 oz roast beef
1½ oz fat-free mozzarella cheese
6 portabella mushroom caps
1 italian tomato tomatoes
1 oz fresh basil leaves
Directions
Set oven to 350 F.
Wash mushrooms in cold water and use a knife to remove the stems. Then, use a small spoon to gently scrape the interior of the mushroom until it's white.
Build your slider: Part the mushroom cap (round side down), top with a few leaves of fresh basil, 1 roma tomato slice, 4 ounces shaved meat, 1/2 ounce mozzarella, 1 tbsp marinara, and the other mushroom cap to serve as the bun.
Skewer with a kabob stick and place on a baking sheet. Use foil to prop the sliders up to prevent them from rolling around the pan.
If desired, sprinkle with Italian seasoning. Repeat for the other two sliders.
Bake in the oven for 15 minutes.