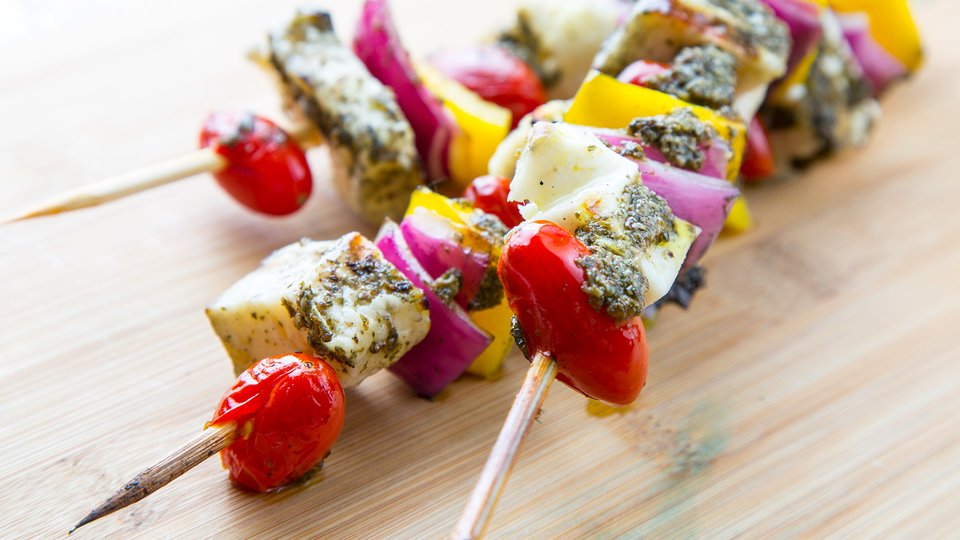 Also known as "grilling cheese," halloumi is a squeaky cheese from Cyprus with a high melting point that makes it a great grilling option. On the outside, you get those great grill lines and crispy crust, while the inside turns into velvety goodness. Just a single ounce of halloumi has about 6 grams of protein, which is comparable to several types of meat, including chicken breast. Cook it like we suggest here, or slice it lengthwise into two big slabs and grill it like you would a steak.
Ingredients
1 pkg halloumi cheese
1 cup cherry tomatoes
1 whole yellow pepper, sliced
1 whole red onion, sliced
2 tbsp pesto
1 tbsp olive oil
1 tbsp red wine vinegar
2 tbsp lemon zest
Directions
Build a medium-hot fire in a charcoal grill, or heat a gas grill to medium-high. Grease grill grates.
Whisk together pesto, olive oil, red wine vinegar, and lemon zest.
In alternating order, thread halloumi, tomatoes, bell pepper, and onion onto the skewers.
Grill kebabs for 3 minutes, or until grill marks appear on cheese. Brush on half of the pesto sauce.
Flip kebabs and grill for 3 minutes more, or until vegetables are tender and cheese has a nice crust. Brush on remaining pesto sauce.