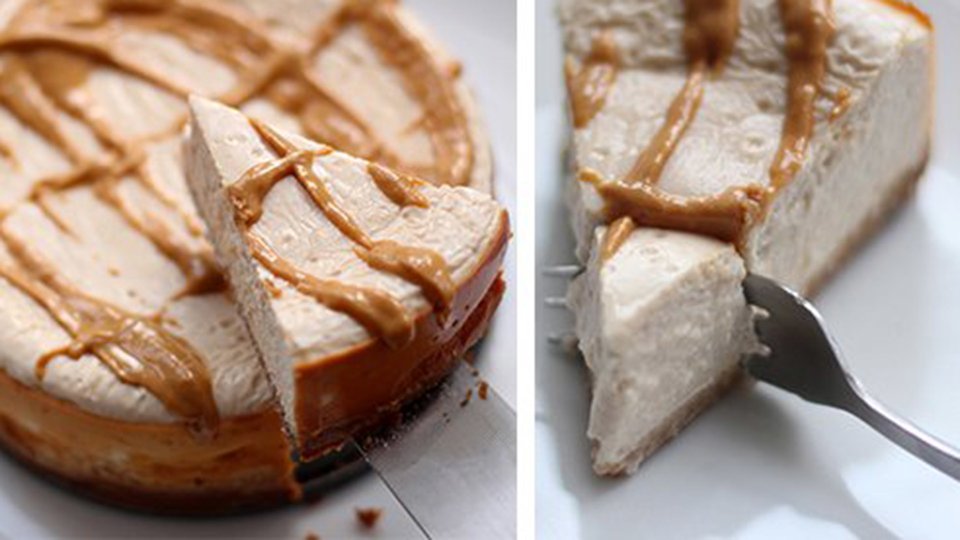 Cheesecake is delicious—there's a reason there's a whole factory named after the stuff! Swap out cream-and-sugar-packed slices and customize your cake with this high-protein, lower-calorie alternative.
base Ingredients
⅜ cup almonds, chopped
¼ cup natural peanut butter
1 tbsp agave syrup
filling Ingredients
½ tbsp liquid egg whites
1¼ cup nonfat plain Greek yogurt
2 scoop cellucor COR-Performance, Peanut Butter Marshmallow
Directions
Make your base by mixing all the base ingredients together and pressing the mix into the bottom of a 6-8 inch nonstick springform pan.
Then, make your filling by blending the whey, egg whites, and yogurt. Zero percent Greek yogurt works well because the base is already packed with healthy fats, but if you're feeling a bit indulgent and want to use 2 percent or full-fat yogurt, go for it! You could even add some ricotta for extra creaminess.
Pour the filling on the base and stick it in an oven set to 340 degrees F. Bake for 45-50 minutes or until the center wobbles slightly but the cheesecake feels cooked on the sides. Cook time varies with this recipe, so carefully monitor your cake. You do not want to wait until the center cooks all the way through, or it will dry up. Remove the cake while it still feels a bit "raw" in the center. As it cools, it will set into a nice, creamy consistency.
Set your cheesecake on the counter to cool for an hour. Then, refrigerate it for at least 4-5 hours. Garnish with peanut butter, melted chocolate, nuts, or fresh fruit. Just go crazy with it. Above all, enjoy!