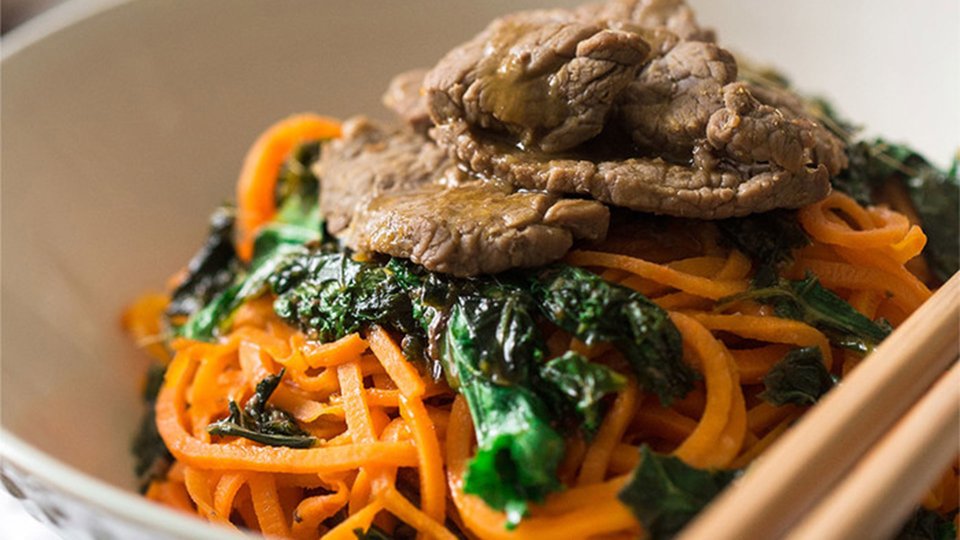 This orange beef stir-fry is packed with healthy carbs, green, and protein. And it can all be on your plate in under 30 minutes!
Stir-Fry Ingredients Ingredients
1 whole sweet potato
2½ tsp coconut oil
1 tsp ginger, minced
½ lb sirloin steak, about 1 inch thick
Sauce Ingredients Ingredients
1 cup orange juice, fresh squeezed
2 tsp ginger, minced
1 tbsp coconut aminos
1 tbsp honey
8 cup kale, diced
salt and pepper to taste
Directions
Spiralize the sweet potato using the 3-millimeter-blade spiralizer.
Heat 1-1/2 teaspoons of the coconut oil in a large pan over medium heat. Add in the potato noodles and cook until they just begin to soften, about 5-7 minutes. Place into a bowl and cover to keep warm.
Heat the remaining teaspoon of oil in the pan over medium heat, and add in 1 teaspoon of fresh ginger. Cook until the ginger is lightly browned and fragrant, about 1 minute.
Add the steak and cook until it reaches desired doneness. Drain the fat and place into a bowl. Cover it to keep warm, and set aside.
In a small bowl, whisk together all the sauce ingredients except the kale and toss into the pan. Turn the heat up to high, and boil the sauce until it just begins to thicken, about 2-3 minutes.
Turn the heat down to medium and toss in the kale. Cook until the kale begins to wilt.
Divide the noodles and steak between two dishes and top with the sauce and kale mixture. Devour!