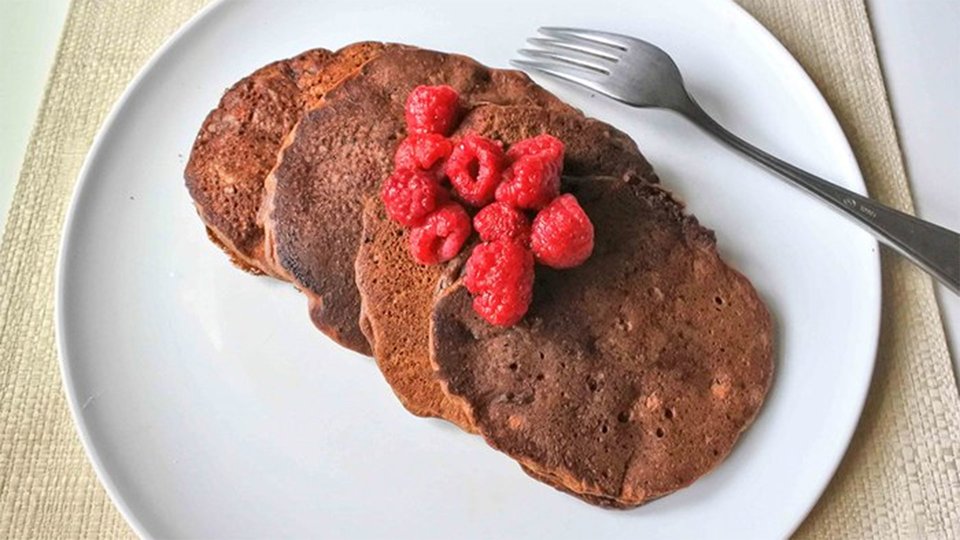 Pancakes that are little more than a stack of white flour topped with faux maple syrup are a total buzzkill. Fortunately, these much healthier, java-infused flapjacks provide a surefire way to rev up your morning. And for harried mornings, the batter can be made the night before and chilled. Whole-wheat pastry flour or spelt flour can be substituted for oat flour. Better-body bonus: Made simply by grinding up oats into a fine powder, oat flour has a denser supply of fiber, vitamins, and minerals than your typical all-purpose flour. Sneaking in some protein powder and chopped nuts assures that these pancakes stick with you longer to avoid morning snack attacks.
Ingredients
¾ cup oat flour
¼ cup(s) vanilla whey protein powder
2 tbsp cocoa powder, unsweetened
1 tsp cinnamon
1 tsp baking powder
½ tsp baking soda
1 egg
¾ cup coffee, brewed
1 banana
⅛ cup, chopped hazelnuts
2 tsp unsalted butter
1 cup raspberries
Directions
In a large bowl, stir together the flour, protein powder, cocoa powder, cinnamon, baking powder, baking soda, and a pinch of salt.
In a separate bowl, whisk together the egg, coffee, and vanilla extract (if not using vanilla protein powder). Stir in the mashed banana and nuts.
Add the wet ingredients to the dry ingredients, mix gently, and let the batter rest 15 minutes.
Melt butter or coconut oil in a skillet over medium heat. Pour 1/4 cup batter for each pancake into the pan, and cook for 2 minutes per side.
Serve the pancakes topped with raspberries, and drizzle them with pure maple syrup if desired.