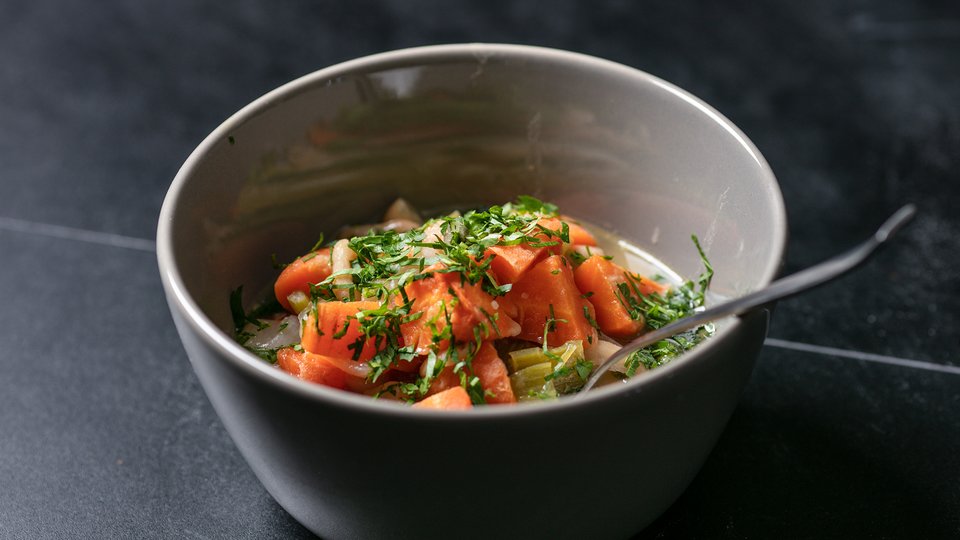 If you've never tried making your own bean and vegetable soup, this simple recipe will help you finally break free from the can. Making your own soup is a great way to control sodium in your diet and use up leftover vegetables in the fridge and pantry. Onion, carrots, and celery form a traditional base, while fennel, crushed red pepper, and diced tomatoes add richness and depth of flavor. Although the recipe calls for white beans, any bean you have in your pantry will also do the trick, adding protein and healthy fiber to this easy meal.
Ingredients
1 onion, chopped
5 clove garlic, chopped
1 medium carrot, chopped
3 stalk, medium (7-1/2" - 8" long) celery, peeled and chopped
½ bulb fennel, chopped
1 tbsp crushed red pepper flakes
1 pinch table salt
½ cup diced tomatoes
2 cup white beans
4 cup vegetable stock
½ cup parsley, chopped
Directions
Sweat the onions and garlic in a sauce pan for a few minutes, then season with salt and add crushed red pepper.
Add the carrots, fennel, and celery and cook for a few more minutes. Add the diced tomatoes, white beans, and vegetable stock and bring to a simmer.
Let simmer for 20-25 minutes, allowing the liquid to reduce slightly. Finish with chopped parsley and serve.