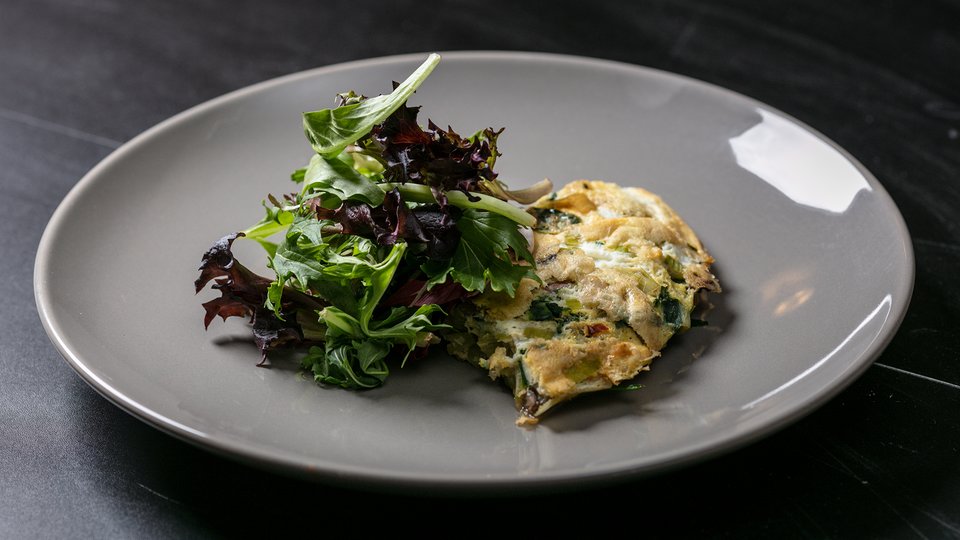 A frittata is an egg-based dish, kind of like a crustless quiche, that you can easily make on the stove and quickly finish in the oven. All you need is an oven-proof skillet to enjoy this simple yet hearty breakfast treat. This vegetable-based frittata gets its flavor from leeks and mushrooms and can serve up to four people, making it the perfect weekend breakfast or a great make-ahead recipe to meal prep your week.
Ingredients
6 whole egg
1 leek leeks, bulb and lower leaf-portion, chopped
1 cup mushrooms, sliced
2 tsp olive oil
Directions
Preheat the oven to 375 degrees F.
Cut the leek in half lengthwise and wash very carefully to remove all dirt. Slice very thin.
In an ovenproof skillet, gently sweat the leeks and mushrooms in olive oil on low heat until they are soft.
Beat the eggs in a bowl, then add to the pan. Stir the eggs frequently over medium heat, until the edges start to set up. Then, move the whole pan into the oven for 6-8 minutes, depending on the thickness of the frittata.
Once the eggs are cooked through, let cool for 3 minutes, then carefully turn the frittata onto a plate by placing a plate upside down on top of the skillet and inverting them together, then pulling the skillet off.