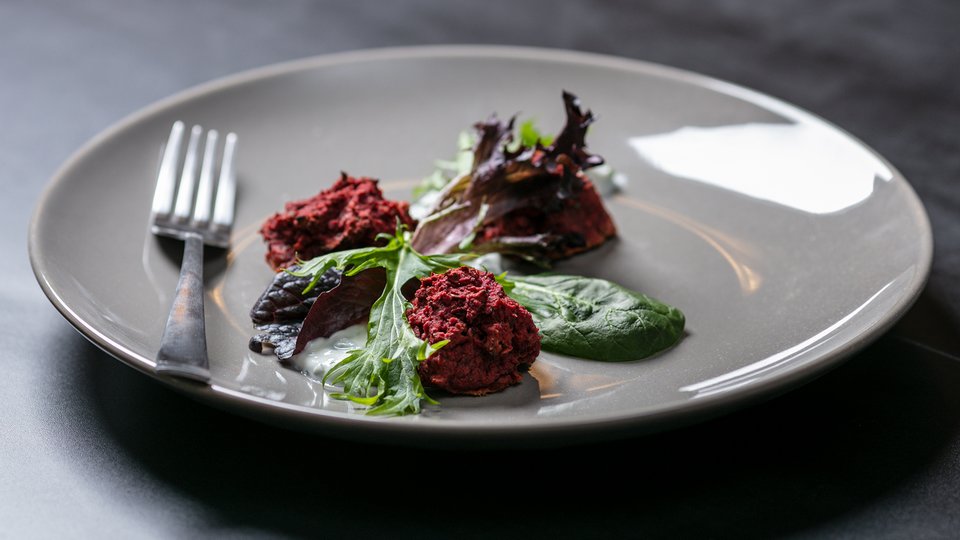 Falafel is traditionally made just with ground chickpeas, but the rich, earthy flavor of cooked beets makes for a flavorful and colorful addition. Seasoned with ginger, cumin, and chili powder, and paired with an easy-to-make, low-fat tzatziki sauce, this vegetarian dish is a light and healthy meal you can enjoy any time.
Falafel Ingredients
1 beet (2" dia) beet, cooked until tender
¾ cups chickpeas, cooked
1 shallot, finely chopped
2 clove garlic, minced
2 stalk celery, finely diced
1 tbsp ginger, minced
2 tbsp cilantro, chopped
1 tsp cumin
1 tsp chili powder
2 tbsp ground flaxseed
Low-Fat Tzatziki Ingredients
¼ cup nonfat plain Greek yogurt
1 tsp cumin
1 tsp garlic, minced
1 tbsp dill
2 tbsp cucumber, peeled, finely chopped
1 tsp lemon juice
Directions
Preheat the oven to 400 degrees F.
Sweat the shallots, ginger, celery, and garlic. Once soft, add the spices.
Combine the shallot mixture with the remaining ingredients for the falafel in a food processor and pulse until it becomes a smooth paste. Form mixture into balls or cakes about 2 inches across, and bake in a baking dish for 20 minutes.
Meanwhile, combine all ingredients for the tzatziki in a bowl and mix until smooth. Serve cooked falafel balls topped with tzatziki on a bed of mixed greens.