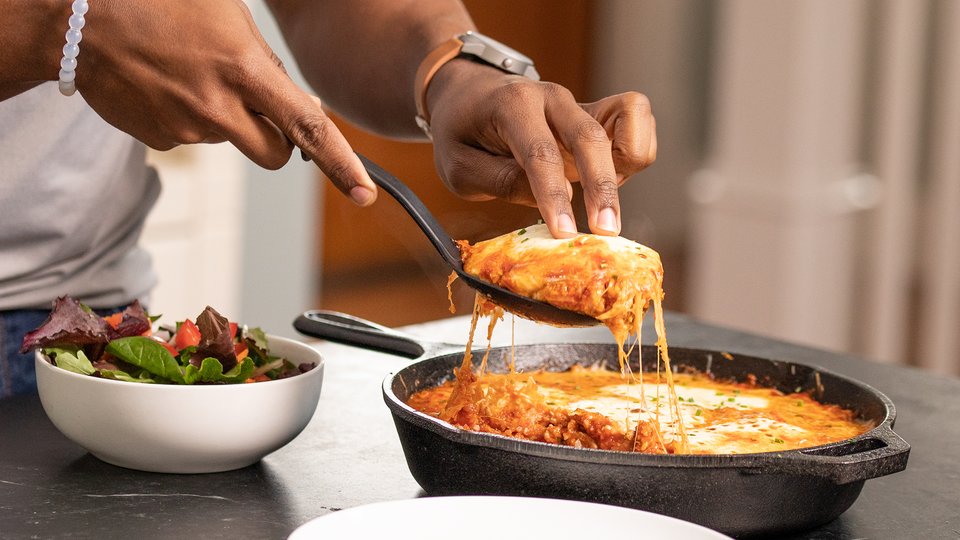 This low-carb casserole satisfies comfort-food cravings without sacrificing gains!
Ingredients
¾ lb cauliflower
1 tbsp olive oil
1 tbsp garlic, minced
⅓ cup red onion, diced
1 lb 93% lean ground turkey
1 tsp, whole fennel seeds
1 tsp sage
1 pinch sea salt
1 pinch pepper
2 cup marinara sauce
1 cup fat-free mozzarella cheese
½ cup low-fat parmesan cheese
1 to taste fresh basil leaves
1 to taste chives
Directions
Preheat oven to 400 degrees F.
Place cauliflower florets in a food processor or high-powered blender and pulse blend to create pearls, which are a little thicker than rice. It should make 3-4 cups of pearls.
Remove excess water from cauliflower pearls by squeezing in a cheesecloth. Set aside.
Warm skillet on medium heat and add olive oil. Once oil is hot, add garlic and onion. Cook for 2-3 minutes to caramelize the onion.
Add ground turkey to the skillet and chop it up while it cooks. Add the fennel seeds, sage, salt, and pepper, and continue to cook until there are hardly any visible pink pieces of meat, about 4 minutes.
Add the cauliflower pearls to the skillet and mix everything together.
Pour in the pizza sauce, stir it up, then top it all off with mozzarella and parmesan.
Cover the skillet with foil and bake in the oven for 15 minutes. Remove foil and cook an additional 3-5 minutes until the cheese has completely melted and lightly browned.
Garnish with fresh basil and dried chives and enjoy with a fresh garden salad.