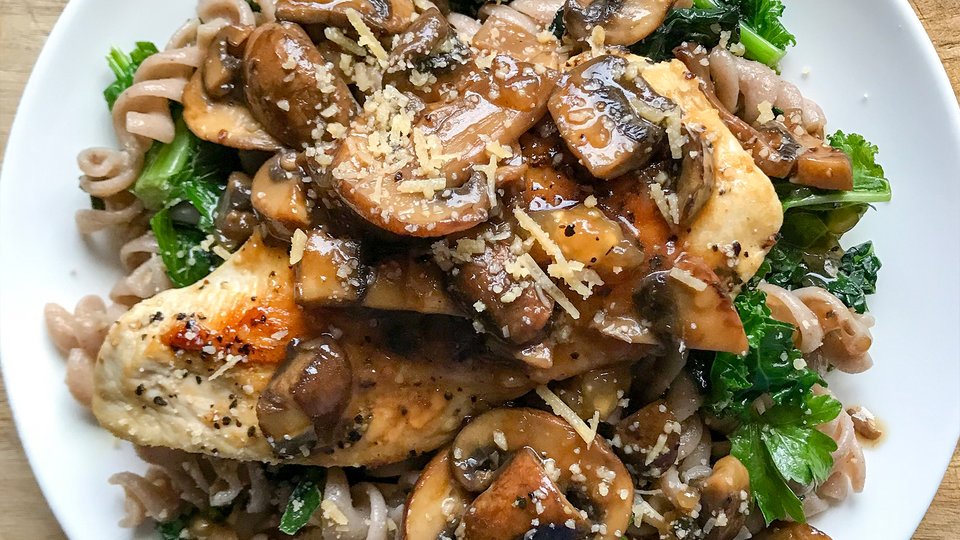 Chicken Marsala is definitely a comfort food—there's just something about that rich wine sauce, tender chicken, and mushrooms! This lighter, healthier version still has all the delicious flavor of my favorite dish, and whether you're into traditional Italian or trying out new flavors, I'm sure you'll love it!
Marsala Chicken Ingredients Ingredients
24 oz chicken breast
¼ tsp kosher salt
¼ tsp, ground black pepper
2 tbsp butter, without salt
1 tbsp extra virgin olive oil
1 cup diced portabella mushrooms, sliced
½ cup marsala cooking wine
½ cup chicken bone broth
¼ cup flat-leaf parsley
Garlic Kale Pasta Ingredients Ingredients
6 oz quinoa fusilli pasta
2 tbsp low-fat parmesan cheese
1½ tbsp butter, without salt
1 tbsp olive oil
3 cup kale, diced
½ tsp garlic powder
Directions
Either slice chicken breasts lengthwise so they're half as thick, or wrap each chicken breast with cling wrap and use a meat mallet to pound them until they're 1/2-inch thick. Season both sides with salt and pepper.
Heat one tablespoon each of butter and olive oil in a nonstick skillet over medium-high heat.
Cook chicken breasts in skillet 4-5 minutes per side until browned and cooked through. Set aside.
Add one tablespoon of sliced mushrooms to same skillet and sauté until golden brown.
Add back chicken breasts, plus cooking wine, chicken broth, and one tablespoon of butter, cooking 1 minute until slightly reduced (you may add 1 tbsp cornstarch to thicken, if desired).
Cook fusilli according to package directions, drain, and rinse with hot water.
Sauté kale with olive oil and garlic powder until wilted.
Toss cooked pasta with sautéed kale, 1-1/2 tbsp butter, and shredded parmesan cheese.
Serve chicken and mushroom sauce over pasta. Enjoy!