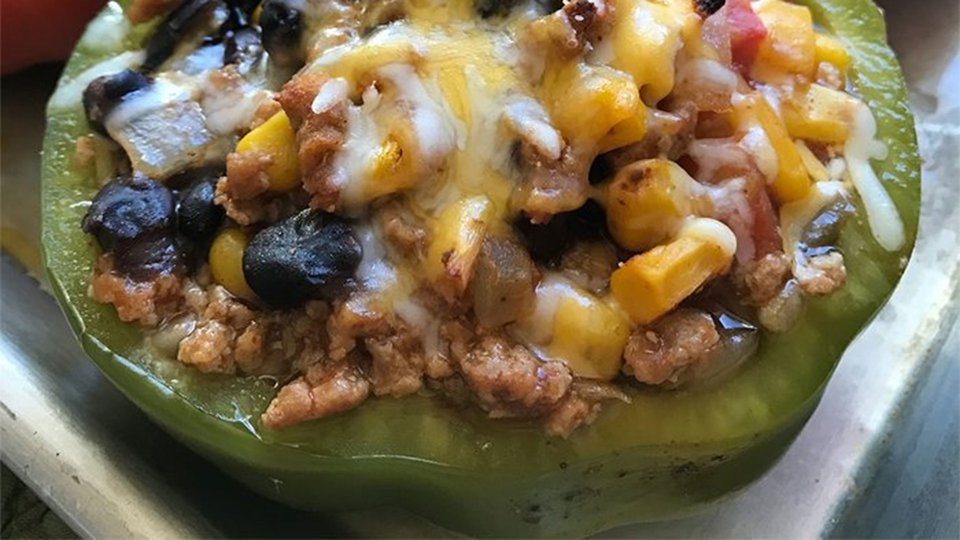 Turn Taco Tuesday into taco every day with this low-carb recipe.
Ingredients
2 lb ground 99% fat-free turkey breast
1 cup, chopped onions
6 tbsp (1 serving) taco seasoning
½ cup water
1 cup, chopped or sliced tomatoes
1 cup black beans, drained and rinsed
1 cup corn
2 green bell pepper
2 red bell pepper
2 yellow bell pepper
¾ cup reduced-fat Mexican cheese
Directions
Preheat the oven to 350 degrees F.
Brown the ground turkey and onion in a skillet over medium-high heat until no pink remains.
Add the taco seasoning and half a cup of water. Simmer the mixture for 5-10 minutes over medium-low heat.
While the taco meat simmers, wash six bell peppers, cut them in half across the center, and remove the seeds.
Transfer the meat from the skillet to a large mixing bowl. Add the black beans, sweet corn, and diced tomato, and stir to combine.
Arrange the pepper halves on a baking sheet, and divide the filling evenly between halves.
Bake the stuffed peppers for 30-35 minutes until tender.
Remove the peppers from the oven, top each half with a tablespoon of shredded cheese, and bake an additional 5 minutes until the cheese is melted.
Serve the tacos hot, or store them in the fridge up to one week, reheating in the oven or microwave.