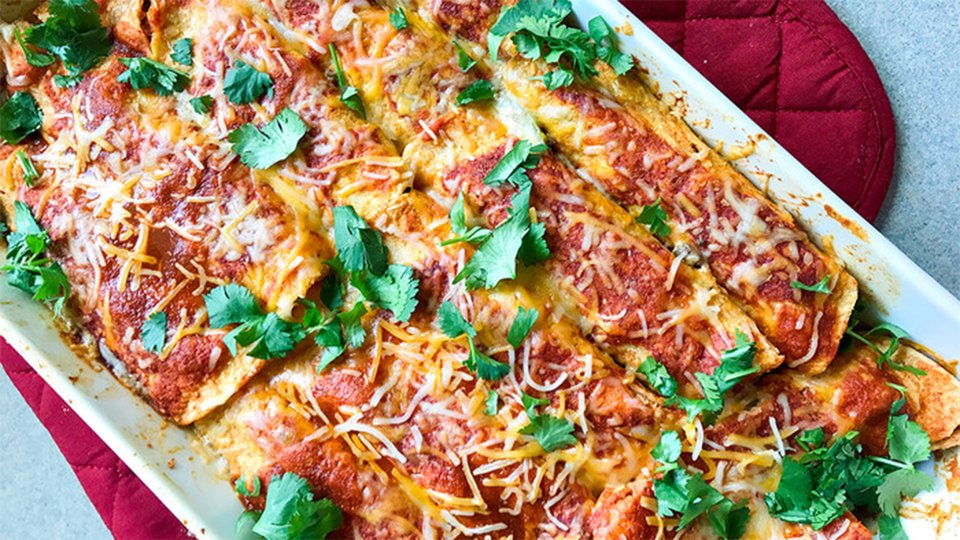 I don't know about you, but I love Mexican food! These healthy enchiladas are filled with spiced ground beef, peppers, onion, and melty cheese. Yum! They're easy to make, low in fat, and gluten-free! I divided my enchiladas into airtight containers for a week's worth of meal prep. Convenient and delicious!
Ingredients
2 lb lean ground beef
1 cup onion, finely chopped
1 cup, chopped green bell pepper
2 clove garlic, minced
1 tsp cumin
1 tsp paprika
½ tsp, ground black pepper
15 oz red enchilada sauce
16 corn tortilla
1½ cup reduced-fat Mexican cheese
¼ cup cilantro
Directions
Preheat oven to 350 degrees F.
Lightly grease a 9x13 casserole dish or baking pan.
In a large skillet, brown ground beef over medium-high heat, breaking up with a spatula.
Drain fat and add onion, garlic, and peppers. Sauté until onion is translucent and garlic is fragrant.
Season beef with cumin, smoked paprika, and black pepper. Remove from heat.
Wrap tortillas in a damp paper towel, then heat in microwave for 20-30 seconds.
Pour enchilada sauce into one medium bowl and shredded cheese into another.
Dip a warm tortilla in enchilada sauce, and set in casserole dish.
Fill tortilla with 3 tablespoons of beef mixture and 1 tablespoon of cheese.
Roll up and arrange in corner of dish, seam side down. Repeat with all tortillas and beef.
Pour remaining sauce over the enchiladas in pan. Sprinkle the tops evenly with remaining cheese.
Bake 20-25 minutes or until cheese is melted.
Remove from oven and let cool 5-10 minutes before serving.
Serve with desired toppings and enjoy!