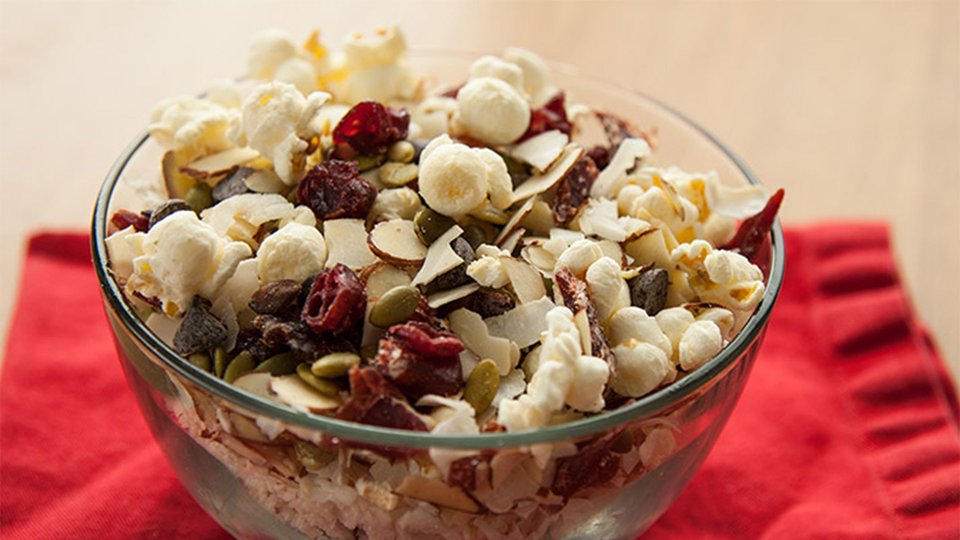 Jerky is a stellar source of protein that shouldn't be limited only to road trips. The parched meat is a perfect way to jazz up a game-day snack mix. Popcorn adds some low-calorie volume, which makes this snack extra-filling, so you won't feel compelled to OD on the sketchy fare your friends brought to the soiree. In fact, this sweet-and-salty riff on trail mix has a powerful combination of protein, fiber, and healthy fats to help quell hunger and any risk of stuffing yourself silly. A bit of dark chocolate should help curb cravings for your neighbor's chocolate chip cookies.
Ingredients
4 cup popcorn, plain
3 oz beef jerky
¾ cup almonds, dry roasted, unsalted, sliced
⅔ cup dried cherries
⅓ cup soy nuts, roasted
⅓ cup pumpkin seeds
⅓ cup coconut flakes
⅓ cup dark chocolate chips
Directions
Toss all ingredients together, mix, and enjoy!