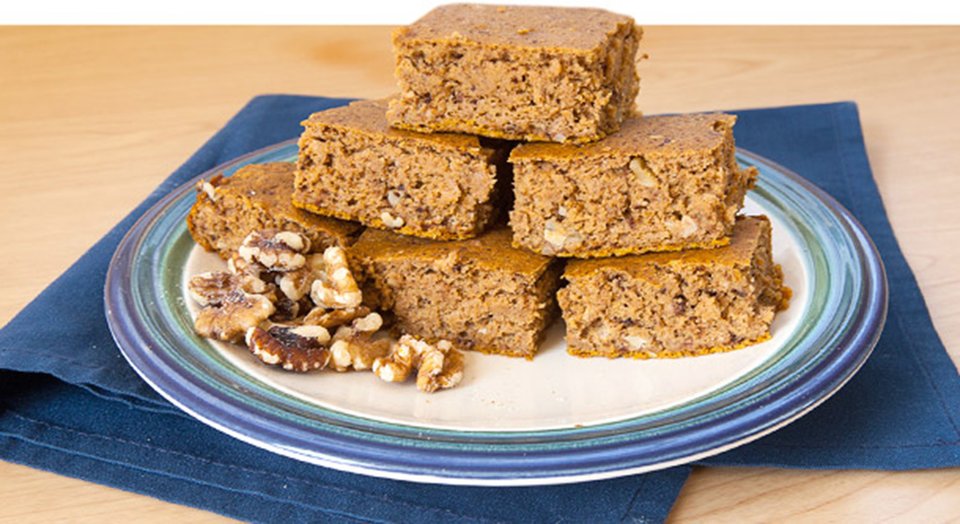 Who hasn't experienced the guilty pleasure of a tasty pumpkin scone, cheesecake, or bread at the local coffee shop? Unfortunately, they're pretty unhealthy, but they're so darn delicious! If only there was a healthy down-home pumpkin piece of heaven that someone on a diet could enjoy...
Ingredients
8 tbsp xylitol
½ cup unsweetened applesauce
2 tsp cinnamon
1½ tsp ground ginger
½ tsp ground cloves
1 tsp baking powder
1 tsp baking soda
½ tsp salt
2 tsp vanilla extract
4 large egg whites
2 cup oat flour
2 scoop vanilla protein powder
½ cup almond milk
½ cup walnuts, chopped
Directions
Preheat the oven to 350 degrees F.
Spray a 9 X 13 Pyrex dish with nonstick spray.
Combine first 11 ingredients and mix well.
Add the oat flour, whey protein, almond milk, and walnuts, and mix until incorporated. Spread batter into the Pyrex dish and bake for 30 min.
Makes 24 squares.