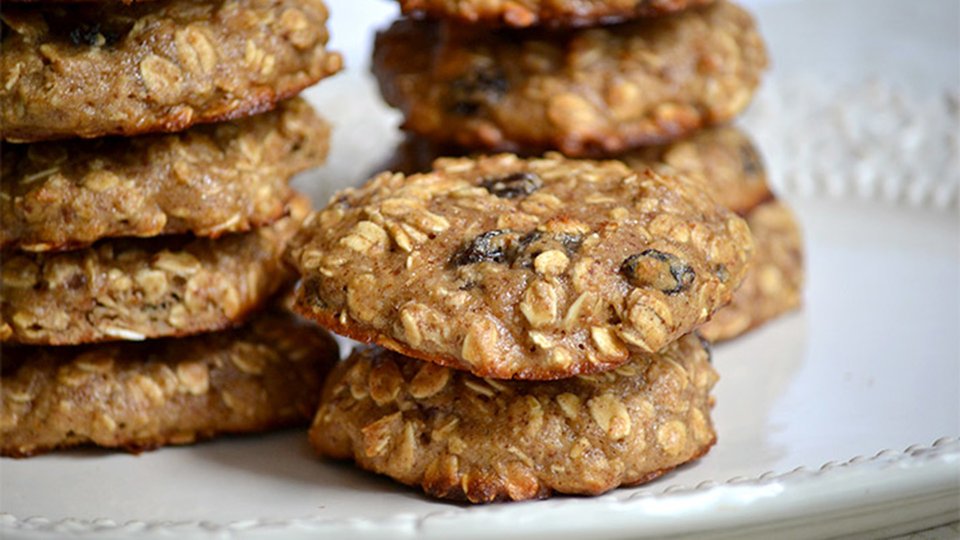 In the mood for fresh-baked oatmeal raisin cookies? Bake up a batch of these protein-rich morsels to satisfy your sweet tooth and support your fitness goals!
Ingredients
¼ cup natural almond butter
2 tbsp maple syrup
2 large egg whites
¼ cup unsweetened applesauce
1 tbsp vanilla extract
1½ cup raw oats
½ cup almond flour
16 tbsp xylitol
½ tsp cinnamon
½ tsp baking soda
¼ cup raisins
Directions
Preheat the oven to 350 degrees F. Line a baking sheet with foil, spray with cooking spray, and set aside.
In a mixing bowl, whisk together the almond butter, maple syrup, egg whites, applesauce, and vanilla extract until smooth.
In a separate bowl, stir together the oats, flour, whey isolate, xylitol, baking soda, and cinnamon. Stir the dry mixture into the wet mixture, a little at a time, then add the raisins.
Form a cookie with about three tablespoons of batter. Place each cookie onto the baking sheet at least 1 inch apart. Repeat this process until 12 cookies are made.
Bake in the oven for 12-14 minutes, or until center of cookie is cooked through.