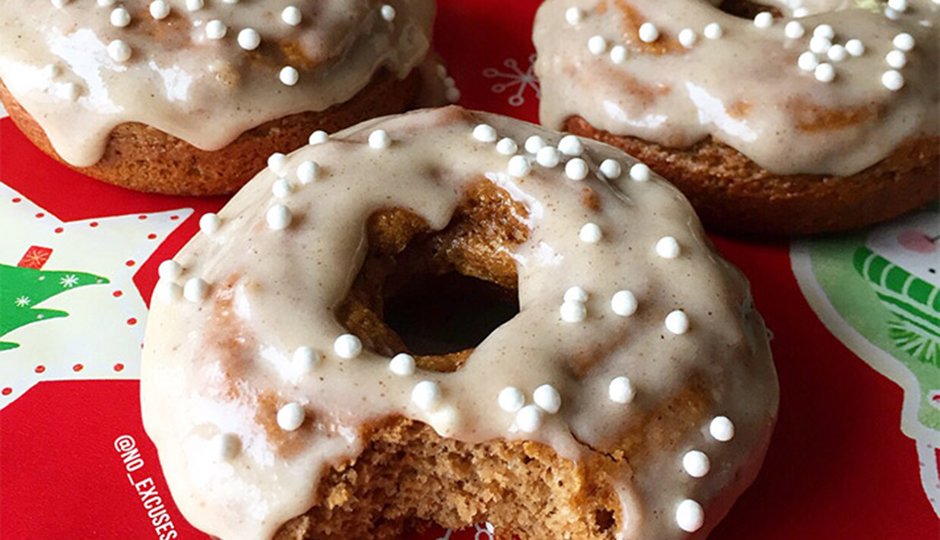 You now have no excuse to blow your diet on doughnuts! These protein donuts have a rich spiced-gingerbread flavor and that classic cake-doughnut texture (great for dunking in your coffee). These also have fantastic macros. And the glaze is just perfection!
Doughnuts Ingredients
1 scoop vanilla whey protein powder
½ tsp powdered Stevia
3 Tbsp coconut flour
½ tsp baking powder
¼ tbsp baking soda
1 salt to taste
½ tsp cinnamon
⅛ tsp ground ginger
¼ cup ground cloves
¾ cup butternut squash, baked
¼ tbsp liquid egg whites
2 cup unsweetened applesauce
2 tbsp blackstrap molasses
Icing Ingredients
½ scoop vanilla protein powder
¼ cup cashew milk
2 tbsp coconut oil
2 tsp powdered Stevia
⅛ cup ground almonds
Directions
Preheat oven to 325 degrees F. Whisk together dry ingredients in a mixing bowl, then mix in wet ingredients.
Spoon batter into a sealable baggie and cut off one corner to make a piping bag. Use piping bag to squeeze batter into doughnut wells.
Bake for 8-12 minutes until firm.
While doughnuts cool, mix up your icing. Spread icing over cooled doughnuts and enjoy!