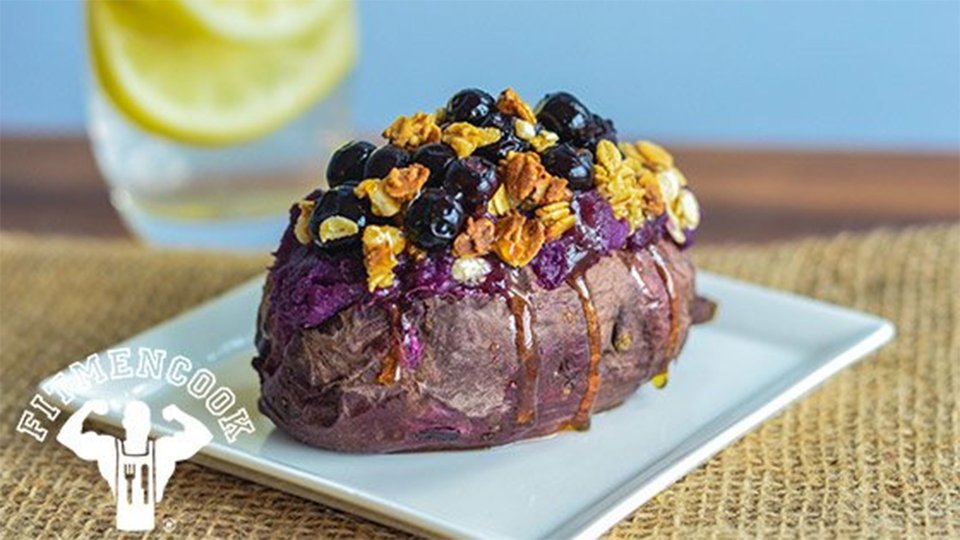 Nope, your eyes aren't playing tricks on ya! That's definitely a purple sweet potato, and it's delicious. If you're like me, you probably have pretty aggressive sweet cravings after a tough workout. The first thing on your mind might be smashing a pint of ice cream. Try this recipe instead! In addition to the regular vitamins and minerals that sweet potatoes provide, a single serving of purple sweet potatoes are loaded with more antioxidants than a single serving of blueberries. Crush your goals and get those nutrients in!
Ingredients
150 g purple sweet potato
⅛ cup blueberries
2 tbsp unsweetened almond milk
1 tbsp organic honey
½ tbsp coconut oil
1 tbsp granola
Directions
Bake a purple sweet potato in the oven until soft. If you are unable to find larger purple sweet potatoes, simply bake several small purple sweet potatoes to meet your desired serving size.
Set a skillet on medium heat and lightly spray with coconut oil. Toss blueberries into the skillet and saute until they appear as if they are going to burst open—about 5-6 minutes.
Remove purple sweet potato from the oven. Remove the insides with a spoon and place in a bowl.
In the bowl, add almond milk, coconut oil, 1/2 tbsp honey, and cinnamon. Mix together to form a puree.
Add the mixture back to the potato. Top with sauteed blueberries, granola, and 1/2 tbsp honey.
Remember to add your choice of protein! I recommend grilled chicken breast or baked white fish.